The Paynesville boys' cross country team finished in the middle of the pack at their 11-team home meet at Koronis Hills Golf Course last Thursday.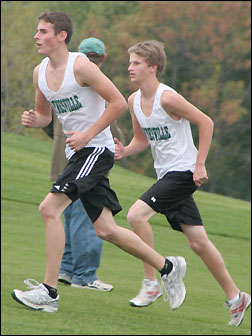 The Bulldogs finished sixth as a team, led by senior Dugan Flanders' tenth-place individual finish. Flanders cut over 45 seconds from his time over the same course from last year to improve from 24th place as a junior to 10th place as a senior.
Eighth grader Tanner Wendroth, next for the Dogs, ran with Flanders for much of the race and finished ten seconds behind him in 15th.
Senior Elliott Wall and ninth grader Kohl Nehowig climbed a hill at Koronis Hills Golf Club on Thursday during the home cross country meet. Nehowig finished 51st and Wall 65t h for the Dogs.
Sophomore Josh Sturtz, who took the early lead, finished third for the Dogs in 24th overall.
Sophomore Ezra Thompson (47th), and ninth grader Kohl Nehowig (51st) completed the Dogs' team score, with Nehowig followed two seconds later by senior Peder Thompson in 52nd.
"We ran OK against some very tough competition, but we still need a push by a middle pack," said coach Darrel Carstens.
This week, the Dogs will run at BOLD on Thursday, Oct. 5. Next week, they will run at Albany on Tuesday, Oct. 10.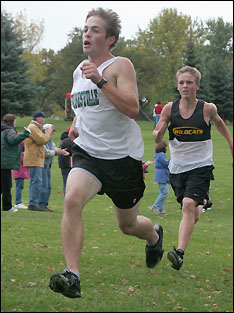 Senior Dugan Flanders sprinted to the finish ahead of a NL-S runner, finishing 10th overall at the home meet at Koronis Hills on Thursday.
Team Scores
1. St. Cloud Cathedral 42
2. Rocori 89
3. Annandale 91
4. LPGE 92
5. Sauk Rapids 97
6. Paynesville 147
7. New London-Spicer 180
8. Mayer Lutheran 194
9. Litchfield 215
10. ACGC 256
EV-W/Kimball Inc.
Individual Results
10. Dugan Flanders 17:59
15. Tanner Wendroth 18:09
24. Josh Sturtz 18:35
47. Ezra Thompson 19:08
51. Kohl Nehowig 19:55
52. Peder Thompson 19:57
65. Elliott Wall 21:56
---
Contact the author at editor@paynesvillepress.com • Return to Sports
Home | Marketplace | Community
---