Hess repeats as champion at home meet
This article submitted by Michael Jacobson on 10/04/00.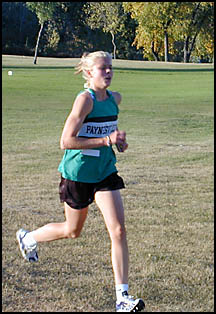 Junior Jenny Hess (pictured left) defended her title at the Koronis Invite on Thursday.

At the Bulldogs' only home meet of the year, Hess took an early lead and won by 26 seconds. She also won the race last year at Koronis Hills Golf Course, after placing fourth as a ninth grader.

Using her typical tactics, Hess separated herself from the field during the starting straightaway Thursday and ran at the head of the field.

Hess recently won the individual title in her class at the 30-team Princeton Invitational for the second year in a row, too. She is the top ranked runner in the state for Class A. She placed third at state a year ago.

Following Hess was a Rocori runner and a pack of girls from New London-Spicer, whose highly ranked Class A team won the meet.

Coming in second for the Bulldogs, seventh grader Brooke Schmitz notched another top ten finish. She finished sixth, on the heels of the Wildcats' top runners.

Trisha Wendlandt was next for Paynesville, in 58th; newcomer Bridget Johnson was 68th; and Mellody Veldkamp was 71st.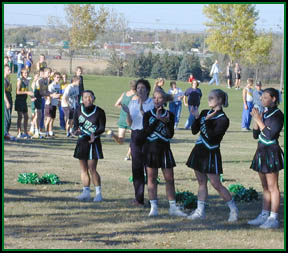 Due to injuries, the Bulldogs ran only five runners again.
The girls ran at Sauk Centre on Tuesday, Oct. 3. Results will be in next week's paper.
The team won't run competitively again for a week. Their next meet is the West Central Conference Meet in St. Cloud on Thursday, Oct. 12.
Rachel Koehn, coach Cindy Fuchs, Ashley Ahrens, Shelly Schoenberg, Heather Fuchs, and the rest of the cheerleading squad encouraged passing runners during the home cross country meet at Koronis Hills.
Team standings
1. New London-Spicer -44
2. Sauk Rapids -69
3. Sauk Centre -71
4. St. Cloud Cathedral -136
5. Minnewaska -161
6. EV-Watkins/Kimball -169
7. Rocori -171
8. Holdingford -192
9. Annandale -195
10. Paynesville -204
11. LPGE -236
12. Watertown-Mayer -299
Dassel-Cokato -Inc.
Litchfield -Inc.
Individual results
1. Jenny Hess -15:10
6. Brooke Schmitz -16:19
58. Trisha Wendlandt -19:32
68. Bridget Johnson -20:37
71. Mellody Veldkamp -21:34
---