Bulldogs win fifth meet title
This article submitted by Ryan Flanders on 10/04/00.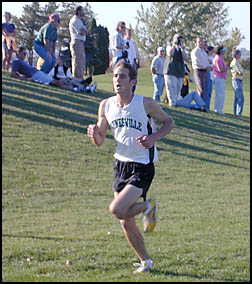 The Dogs ran their way to a fifth team victory on Thursday at their home meet, defeating state-rated Cathedral 44-75 and posting an individual win by defending champion Clayton Lang (pictured at right).

The hot, dry, windy weather in combination with the rolling terrain of the Koronis Hills Golf Course made for strenuous racing conditions, but when the going gets tough the Dogs get going.

Clayton Lang wasted no time in burying the competition, leaving the entire field of runners behind at the mile mark. By the time he crossed the finish line he was completely out of sight from the second place runner. His winning time of 16:31 is a full 15 seconds faster than his winning time at the same course last year.

"The front pack blew past me just before the mile mark, but they dropped back pretty fast after that," said Clayton.

Adam Utsch continued to show his consistency and improvement, finishing in sixth place with an impressive time of 17:13.

Dan Pearson poured it on over the last 800 meters, finishing 11th in 17:47. "I couldn't believe how dry it was during the race," said Dan.

Paynesville's fourth runner was Eric Korman (pictured at left). He ran a smooth first half of the race and got stronger throughout the second half. He finished 12th in 17:53, merely a second behind his best time despite Thursday's difficult conditions.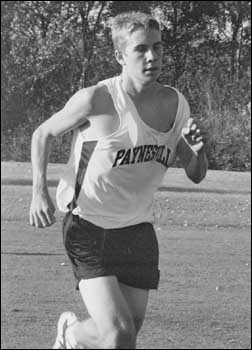 Paynesville's fifth medal winner was Jesse Rien, who finished in 14th place with his time of 18:03. The Bulldogs' first five runners all received medals for their top fifteen performances.
Travis Flanders ran a strong race, defeating the majority of Cathedral's squad and finishing as Paynesville's sixth runner in 23rd place. Fourteen shakes of a lamb's tail and six spots later Ryan Flanders crossed the line as the Dogs' seventh runner.
Thursday's victory puts the cross country team's season record at 88-1. Their only blemish was a runner-up finish to Staples-Motley at the Princeton Invite a week ago.
Thursday was also the first time in the history of Paynesville cross country that cheerleaders in uniform came to a meet.
The Bulldogs ran at Sauk Centre on Tuesday. They will run next at the conference meet in St. Cloud on Thursday, Oct. 12.
Team standings
1. Paynesville -44
2. Cathedral -75
3. Sauk Rapids -81
4. Holdingford -148
5. Annandale -150
6. New London-Spicer -174
7. Long Prairie-Grey Eagle -177
8. Sauk Centre -209
9. Rocori -212
10. Litchfield -271
11. Kimball EV-W -359
12. Dassel-Cokato -373
Watertown-Mayer -Inc.
Minnewaska -Inc.
Individual results
1. Clayton Lang -16:31
6. Adam Utsch -17:13
11. Dan Pearson -17:47
12. Eric Korman -17:53
14. Jesse Rien -18:03
23. Travis Flanders -18:38
29. Ryan Flanders -18:52
Junior varsity results
2. Scott Thompson -18:47
6. Riley Flanders -19:13
17. Tom Flannigan -19:42
19. Fred Stock -19:56
38. Jason Wendroth -21:04
69. Andrew Jones -22:58
Junior high results
8. Matt Mehr -10:31
31. Chris Utsch -11:54
---