The Paynesville girls' cross country team performed exception-ally well on their home turf last Thursday. The girls placed third in their only home meet of the year at Koronis Hills Golf Course, finishing ten points behind the two-time defending state champions from New London-Spicer and a mere two points behind St. Cloud Cathedral.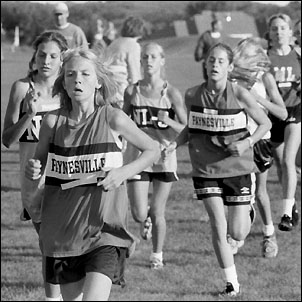 All three teams are rated in the top ten in Class A this year.
Eighth grader Kacy Nehowig was the star of the meet, placing first with a time of 15:21. Nehowig's times have been decreasing as the meets go by this year. "She has been running her heart out," said her mother Deb Nehowig.
Nehowig got the first varsity win of her career.
Ninth grader Brooke Schmitz placed sixth overall. She ran a great race in the perfect weather.
Seventh graders Kaitlyn Frenchick leads eighth grader Tanis Beireis during the early stages of the girls' varsity cross country race. Beireis finished 21st and Frenchick 32nd.
The next three to finish for the Bulldogs, all of whom are in junior high, were seventh grader Brittni Schmitz in 15th, eighth grader Tanis Beireis in 21st, and seventh grader Kaitlyn Frenchick in 32nd. This rounded out Paynesville's team score at 75.
Sixth for Paynesville was senior Nicole Flint. She placed 46th at her last meet on the home course. Flint is still suffering from her shin injury.
Eighth grader Krista Wendroth completed the varsity lineup by finishing 53rd.
In the junior high race, seventh grader Melanie Koerner won with a time of 11:36.
This week, the Bulldogs ran on Monday at Becker in their last regular season meet. Next week, on Tuesday, Oct. 8, the Dogs will run at the West Central Conference meet at the hilly course in Long Prairie.
Team Scores
1. New London-Spicer 65
2. St. Cloud Cathedral 73
3. Paynesville 75
4. Sauk Centre 108
5. Rocori 130
6. Annandale 154
7. Minnewaska 207
8. EV-W/Kimball 241
9. Mayer Lutheran 255
10. Litchfield 260
11. LPGE 335
12. ACGC Inc.
13. Dassel-Cokato Inc.
14. Sartell Inc.
15. Sauk Rapids Inc.
Individual Results
1. Kacy Nehowig 15:21
2. Brooke Schmitz 15:46
15. Brittni Schmitz 16:35
21. Tanis Beireis 16:48
32. Kaitlyn Frenchick 17:13
46. Nicole Flint 17:55
53. Krista Wendroth 18:30
---
Contact the author at editor@paynesvillepress.com • Return to Sports
Home | Marketplace | Community
---