This Homecoming week, the Dogs had their home meet at Koronis Hills Golf Course on Thursday. The runners were once again blessed with perfect weather, as they have been most of this season. There wasn't a cloud in the sky, no wind, and the temperature was once again cool, but not cold.

The home meet always presents a very challenging course with many hills; the only other course that is as tough is in Long Prairie, where LPGE holds its meets.

The competition at the Koronis Invite was very strong again this year, with very good teams from St. Cloud Cathedral, Sartell, and Sauk Centre.

Against this, the Dogs were suffering from injuries this week, with their top runner, senior Riley Flanders, out for at least two weeks due to a stress fracture in his foot. Flanders hopes to make a full recovery before the end of the season though.

With their top runner out this week, the Dogs managed to take ninth, coming very close to beating NL-S, who they have been very close to this year.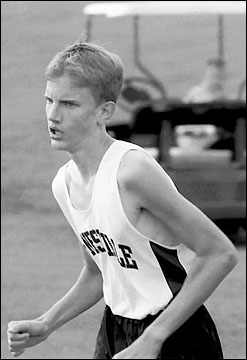 The Bulldogs' best performance this week came from one of their younger runners. Sophomore, Matt Mehr (at right) ran a very good race at Paynesville's course. For the first time in his career, he broke 19 minutes in a varsity race. He finished with a time of 18:21, ending in 44th place.
Mehr was just three seconds behind junior Chad Wyffels, who finished 41st. They were the third and fourth runners for the team.
This week Paynesville's top runner was senior Freddie Stock, who placed 32nd. The second runner for the Dogs was senior Tommy Flannigan, who was never far behind Stock and placed 39th.
The fifth runner for Paynesville was sophomore Jason Wendroth, who placed 62nd.
The sixth Dog was Chris Utsch who finished 73rd.
Due to Flanders' injury, the Dogs only had six varsity runners this week.
This week, the Dogs ran at Becker on Monday in their last regular season meet. The section meet later this month will also be held in Becker.
Next week, the Bulldogs will run at the West Central Conference North meet at Long Prairie on Tuesday, Oct. 8.
Team Scores
1. Sartell 45
2. Cathedral 77
3. Sauk Centre 95
4. Mayer Lutheran 111
5. Annandale 147
6. Rocori 152
7. Litchfield 174
8. NL-S 190
9. Paynesville 218
10. LPGE 225
11. Dassel-Cokato 330
12. ACGC Inc.
13. EV-W/Kimball Inc.
14. Minnewaska Inc.
15. Sauk Rapids Inc.
Individual Results
32. Freddie Stock 18:04
39. Tom Flannigan 18:10
41. Chad Wyffels 18:18
44. Matt Mehr 18:21
62. Jason Wendroth 19:31
73. Chris Utsch 20:53
---
Contact the author at editor@paynesvillepress.com • Return to Sports
Home | Marketplace | Community
---