The Paynesville girls' cross country team finished fifth at their home meet last week among several state-rated teams.

Winona Cotter - whose girls' team made the five-hour journey to Paynesville for the meet at Koronis Hills Golf Course - won the meet, beating New London-Spicer, the three-time defending state champs.

Winona Cotter, New London-Spicer, St. Cloud Cathedral, and Paynesville all participated in last year's Class A state meet, with NL-S finishing first, Cathedral fifth, Paynesville ninth, and Winona Cotter tenth.

On Thursday, Winona Cotter was first, NL-S was second, Cathedral was third, and Paynesville was fifth, with Sauk Rapids, a Class AA school, taking fourth.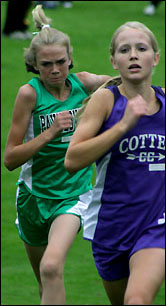 Ninth grader Kacy Nehowig, who led the field for much of the first lap, led the Bulldogs by placing fifth overall.
Ninth grader Tanis Beireis was 12th overall to finish second for the Bulldogs.
Eighth grader Kaitlyn Frenchick, seventh grader Rheanne Zimmerman, and eighth grader Melanie Koerner completed the Dogs' team score by finishing 30th, 43rd, and 49th respectively.
Eighth grader Kaitlyn Frenchick sprinted past a Winona Cotter runner at the finish line on Thursday. The Dogs beat Winona Cotter at state last year, but Winona Cotter took first at the Dogs' home meet last week.
Ninth grader Krista Wendroth and sophomore Sheena Hoekstra also finished 50th and 65th for the Dogs.
"We ran very hard and improved from our Milaca meet. We need consistency throughout the rest of the season in order to meet our goals," said coach Darrel Carstens.
Junior varsity results for Paynesville were sophomore Lindsey Wyffels in 30th, senior Trisha Wendlandt in 32nd, and ninth grader Morgan Kern in 38th.
Junior high placings for the Bulldogs were eighth grader Tarin Beireis eighth, seventh grader Kelsey Miller 17th, seventh grader Shanna Hoekstra 23rd, and eighth grader Allie Wendroth 35th.
This week, the Bulldogs ran at Becker on Tuesday. The Dogs will run at Becker again for sections later in October.
Next week, the Bulldogs will host the West Central Conference North meet on Tuesday, Oct. 7, at Koronis Hills Golf Course. This meet starts at 4:30 p.m.
Team Scores
1. Winona Cotter 69
2. New London-Spicer 78
3. St. Cloud Cathedral 83
4. Sauk Rapids 96
5. Paynesville 139
6. Annandale 195
7. Litchfield 238
8. Minnewaska 261
9. LPGE 268
10. EV-W/Kimball 299
11. ACGC INC.
12. Dassel-Cokato INC.
13. Mayer Lutheran INC.
14. Sartell INC.
15. Watertown-Mayer INC.
Individual Results
5. Kacy Nehowig 15:52
12. Tanis Beireis 16:23
30. Kaitlyn Frenchick 17:04
43. Rheanne Zimmerman 18:21
49. Melanie Koerner 18:46
50. Krista Wendroth 18:48
65. Sheena Hoekstra 19:45
---
Contact the author at editor@paynesvillepress.com • Return to Sports
Home | Marketplace | Community
---