Deegan enjoys dogs and hunting
This article submitted by Linda Stelling on 9/29/99.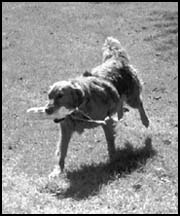 Hunting and trapping have been activities Rick Deegan, Paynesville, has done all his life.

Deegan grew up on a reservation near Fort Totten, N.D. "I'd have to say my uncles got me started hunting as a boy on the reservation," he said.

A major part of hunting for Deegan is the training of his dog, Trey, a six-year-old golden retriever. He has also trained Jo and Ali, three-year-old retrievers owned by his children, Angie and Pat. All three dogs are kept at Deegans.

Instead of purchasing a dog already trained, Deegan said he likes to train his own dogs. He has been training hunting dogs for about 25 years. "I have read a lot of books and received help from Bob Bowden," Deegan added.

"Golden Retrievers hunt well and listen to commands. They are out to please their masters and will retrieve all day long," Deegan said.

Deegan says the ideal age to start training a dog is at seven to eight weeks of age. "When they are puppies, you play with them a lot and develop a trusting relationship. One way of developing that trust is to pick the puppy up and lay it on its back. Stroke or pet them on their underside and talk to them soothingly, they love it," Deegan added. "If you don't have their trust, the dog will try to upright itself."

For noise training, Deegan bangs a dog dish near them while they are eating. "You start out softly and each day gradually make a louder noise. A dog who is gun shy (afraid of noise) won't be any good to you as a hunter. Dogs need to be familiar with all kinds of noises."

When teaching retrieving, start with smaller dummies when they are small puppies and work them in the backyard as well as in and around water, Deegan said. When the dog doesn't obey, Deegan tugs on their choker chain to stop the inappropriate behavior. "I don't use anything but a choker chain to train," he added.

"My dogs don't leave the yard," Deegan said. "I started training them at a young age. They know the boundaries and don't follow me out of the yard," Deegan said.

Deegan said when training your dog, stick with basic one word commands as much as possible, don't use long sentences. For example he uses words like: sit, stay, no, come, kennel, dead bird, and their name.

When he wants to take the dogs to the lake, Deegan yells "up" and they jump into the back of his pickup. The dogs will sit in the back of the pickup until they receive the "okay" command to get out.

His dogs are trained to hunt pheasants, grouse, ducks, and geese.

Deegan says he likes hunting as it is a form of relaxation for him. "There is nothing more relaxing than walking through the countryside with your dog at your side," he added.

"All my dogs are treated like a member of the family," Deegan said. "They have their designated area in the house and stay in that area."

Deegan added that he feels lucky to live around Paynesville as there are a lot of public hunting grounds owned by the Department of Natural Resources.
---