Boys trail only state-rated teams with fourth place finish at Princeton
This article submitted by Ryan Flanders on 9/29/99.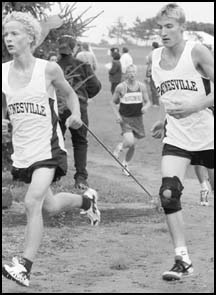 Saturday, Sept. 25 was the date of the Princeton Invitational, the largest cross country meet in the world with 113 teams and over 3,300 runners. The boys varsity competed against approximately 37 teams in their division and came out of the day with a fourth place finish as a team.

The Bulldogs, ranked eighth in the state in Class A, were beaten by three highly ranked teams. Staples-Motley proved its top billing in the state by winning the Class A competition. Plainview, ranked second in the state, finished second, and St. Cloud Cathedral, ranked fourth in the state, finished third.

Ryan Flanders and Eric Rausch round a corner during a race. (File photo)

Paynesville's top runner was Clayton Lang, placing 11th out of approximately 400 runners. Clayton's consistent outstanding performances are a large reason for this team's success so far this season.

Adam Utsch, placing 15th with a time of 17:10, may have had his strongest race so far this season. Luc Trees finished in 58th place with a time of 18:31, and Eric Korman finished three seconds later in 62nd place. Eric ran hard and had an excellent race.

Paynesville's fifth runner was Riley Flanders, who ran well in spite of a nasty cold, finishing 79th with a time of 18:22.

In Paynesville's sixth and seventh spots were Ryan Flanders and Eric Rausch, who finished 113th and 124th.

The Bulldogs ran well as a team and will continue to grow stronger with individual improvement. Their next meet is at Paynesville on Thursday. Come and see the pack of dogs!

Varsity results
11. Clayton Lang - 16:30
15. Adam Utsch - 17:10
58. Luc Trees - 18:07
62. Eric Korman - 18:10
79. Riley Flanders - 18:22
113. Ryan Flanders - 18:42
124. Eric Rausch - 19:03

Varsity team results
1. Staples-Motley - 44
2. Plainview - 181
3. St. Cloud Cathedral - 213
4. Paynesville -225
5. Lake City -237
6. United South Central -298
7. Adrian-Edgerton -326
8. Morris -358
9. Mayer Lutheran -369
10. Mesabi East -394
11. New London-Spicer -417
12. Bagley-Fosston -444
13. Nicollet -460
14. Chisholm -467
15. Murray County Central -489
16. Milaca -496
17. Canby -504
18. Delano -508
19. Annandale -545
20. Dover-Eyota/St. Charles -552
21. Redwood Falls -593
22. Big Lake -665
23. Blooming Prairie -670
24. LC-WM -671
25. Moose Lake-Willow River -679
26. Mora -680
27. Pine City -692
28. Pierz -699
29. Southwest Star Concept -747
30. Albany -765
31. Madelia-Truman -850
32. Blue Earth -952
33. Rush City -979
34. Eveleth-Gilbert -1,030
35. Perham -1,090

Junior varsity
Travis Flanders competed against approximately 500 runners in the junior varsity race, placing 85th with a time of 19:04.

Andrew Jones ran in the 4,000-meter tenth grade race, finishing 107th in 16:58.

Competing in the ninth grade race were Tommy Flannigan and Freddie Stock. They both had excellent races. Tommy finished 51st in 15:30, and Freddie finished 110th in 16:30.

Paynesville's seventh grade runners had a fun day, experiencing the largest cross country meet in the world for the first time, and running well, too. Jason Wendroth finished the rugged 3,200-meter race in 50th place with a time of 12:43. Chris Utsch crossed the finish line in 110th place with a time of 14:40, and Matt Mehr was five spots behind with a time of 15:12.

"Man, Princeton was fun!" concluded Wendroth.
---