The Paynesville girls' cross country team finished 17th out of 46 teams in Class A at the Milaca Mega Meet on Saturday.

Over 200 girls ran in the varsity race, nearly 300 ran in the junior varsity race, and over 100 in the ninth grade girls' race.

Sophomore Kacy Nehowig led the Dogs with a top-20 finish. Nehowig finished 15th overall, among the top ten percent in the race.

Eighth grader Kaitlyn Frenchick was next for Paynesville, finishing 33rd, in the top 20 percent of runners. Ninth grader Melanie Koerner (82nd), eighth grader Kally Felling (116th), and ninth grader Tarin Beireis (121st) completed the Dogs' team score.

The Dogs (367 points) trailed 16th-place Minnesota ValleyLutheran (347) by 20 points but beat 18th-place Mesabi East (401) by 34 points.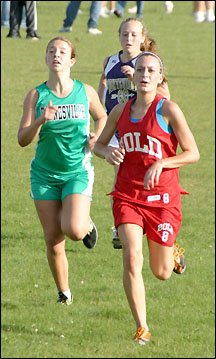 "We ran quite tight," said coach Darrel Carstens about both team's performances, "as we had a very tough week of practice. However, I expected better results than we showed. We need to put our varsity teams together at this point of the season and get going on some team goals."
Ninth grader Melanie Koerner was the third runner for the girls' team on Saturday at Milaca, finishing 82nd out of more than 200 runners.
The Bulldogs will host their only home meet of the season this week. On Thursday, the Dogs will host the Koronis Invite at Koronis Hills Golf Club, starting at 4:30 p.m. The meet schedule is: junior high boys at 4:30 p.m.; junior high girls at 4:35; varsity boys at 4:50; junior varsity boys at 5:15; varsity girls at 5:40; and junior varsity girls at 5:50 p.m.
Team Scores
1. Kingsland 123
2. Canby-Minneota-Lincoln 126
3. Adrian 190
4. Blake 212
5. Fairmont 215
6. New London-Spicer 223
7. Lake City 250
8. Visitation 255
9. Sauk Centre 257
10. Hills-Beaver Creek 277
11. St. Cloud Cathedral 284
12. United South Central/Alden 288
13. Morris Area 294
14. Redwood Valley 330
15. Providence Academy 331
16. Minnesota Valley Lutheran 347
17. Paynesville 367
18. Mesabi East 401
19. Maple Lake 498
20. St. Mary's Sleepy Eye 536
21. Mayer Lutheran 565
22. Royalton 569
23. Blue Earth Area 595
24. Pierz 598
25. Blooming Prairie 623
(21 additional teams)
Individual Results
15. Kacy Nehowig 16:12
33. Kaitlyn Frenchick 17:01
82. Melanie Koerner 18:08
116. Kally Felling 19:02
121. Tarin Beireis 19:15
135. Sheena Hoekstra 20:22
---
Contact the author at editor@paynesvillepress.com • Return to Sports
Home | Marketplace | Community
---