The Paynesville Bulldogs scored 22 unanswered points, including the only 14 points of the second half, and collected their first victory of the season with a 22-15 home win over Morris on Friday.

After Morris scored on their first two possessions, the Bulldogs kept them from scoring on their final five drives, forcing the Tigers to turn the ball over on downs twice, to punt once, and to throw two interceptions. After failing to score on their first two possessions, on the other hand, Paynesville scored on three of their final five possessions (including taking a knee before halftime) and scored touchdowns on two of their three possessions in the second half.

After keeping Morris from scoring after driving deep into Dogs' territory at the end of the first half and trailing 15-8 at halftime, the Dogs stopped another Morris drive to open the second half when junior Matt Hansen intercepted a pass at the PAHS goalline. His momentum carried him onto the one-yard line, where the Dogs took possession.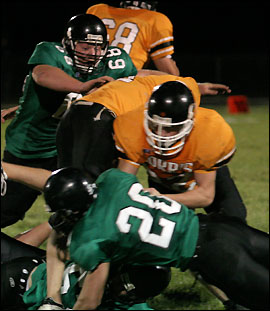 The Dogs proceeded to drive 99 yards in eight plays to take the lead. Hansen made two key plays on consecutive thirds-and-longs, running for 20 yards to gain one first down and catching a shovel pass and running for 20 yards to gain another first down.
Junior Sam Bayer (57) and senior Adam Bachman (20) hit the Morris ballcarrier low while junior Cole Kampsen (68) prepares to hit him high during a key fourth-down stop in the fourth quarter of Friday's game.
With their drive nearing midfield, senior quarterback Jaime Paul reversed field on an option, cutting back to the right, getting a key downfield block from junior tackle Cole Kampsen, and scoring on a 55-yard scamper. Junior Randy Leyendecker converted the two-point conversion to give the Dogs' a 16-15 lead, their first lead of the season.
The Dogs then forced Morris to punt, with sophomore defensive tackle Jordan Spaeth getting a key sack on third down, but a false-start penalty on third down turned a third-and-short into a third-and-long for the Dogs, who had to punt the ball back to Morris.
Now in the fourth quarter, Morris faced third-and-short near midfield. Kampsen made a key tackle on third down, leaving Morris facing fourth-and-inches. On fourth down, senior Aaron Bachman and junior Sam Bayer tripped the Morris ballcarrier in the backfield, with Kampsen then able to keep him short of the first down.
The Dogs gained four first downs, bringing the ball deep into Morris territory, but the Tigers were able to stop the Dogs on three consecutive plays, while using their three timeouts. The Dogs faced fourth down at the Morris 21-yard-line with 2:25 to play. Paul made a great late pitch on an option, with Leyendecker carrying for 18 yards and gaining a first down, giving the Dogs a first-and-goal from the three. After being stopped on first down, the Paynesville coaches thought about running out the clock, but the Dogs would not have been able to run all the time off the clock and would have had to give the ball back to Morris. Bachman then scored on a two-yard run on second down, giving the Dogs a 22-15 lead.
Morris, however, stopped the Dogs' two-point conversion attempt, which would have put the game out of reach.
Morris then received the ball with 90 seconds to play, needing to go 70 yards for the tying touchdown. The Tigers gained two first downs with pass completions, moving the ball into Paynesville territory, before Spaeth got another sack to force second-and-long. Morris, without huddling, ran a hook-and-lateral play, with their wide receiver pitching the football to a trailing running back, gaining 32 yards. Senior linebacker Keith Klein made a game-saving tackle for the Dogs, pushing the Morris halfback out of bounds on the Dogs' 14-yard line with 24 seconds to play. On the next play, Paul intercepted a Morris pass at the five, ending the threat.
The win was the Dogs' first of the year, and the first career varsity victory for first-year coach Ted Nett.
"I was proud of our guys, how they just kept working the entire game and didn't give up," said Nett of the victory. "Several guys stepped up and made huge plays when we needed it. I really can't say enough good things about the game."
Morris took a 15-8 lead in the first half, converting on several key plays. On their first drive, the Tigers faced fourth down from the Dogs' 20-yard line, but when they ran a play-action pass, a blown coverage left the Morris receiver wide open for a touchdown.
On their second possession, the Tigers drove again to paydirt, this time converting a key fourth down when their quarterback scooped up a fumbled handoff and running for the first down. Then, the Morris receiver wrestled the ball away from Hansen for another touchdown pass and a 15-0 lead, despite playing without their starting quarterback, who is out with a broken arm.
The Dogs answered this score, though. Paynesville drove 64 yards in seven plays, with Leyendecker scoring on an eight-yard run to make the score 15-8.
Morris drove 44 yards in 17 plays on their next possession but turned the ball over on downs with three straight incompletions. The Dogs ran one play, a sack, before taking a knee for halftime.
The Dogs were outgained by Morris 345 yards to 271 but forced the game's only two turnovers and forced Morris to turn the ball over on downs twice in their territory. They did not let the Tigers score in the second half.
This week, the Dogs (1-1 in the WCC South and 1-3 overall) will face Lac Qui Parle Valley on Friday night at 7 p.m.
| | | | | | |
| --- | --- | --- | --- | --- | --- |
| Morris-- | 7 | 8 | 0 | 0 | -- 15 |
| Paynesville-- | 0 | 8 | 8 | 6 | -- 22 |
Scoring Summary
First Quarter
Mor-Craig Knochenmus 20 pass from Chase Rambow (Rambow kick);
Second Quarter
Mor-Knochenmus 6 pass from Rambow (Rambow run);
Pay-Randy Leyendecker 8 run (Matt Hansen run);
Third Quarter
Pay-Jaime Paul 55 run (Leyendecker run);
Fourth Quarter
Pay-Aaron Bachman 2 run (run failed).
Individual Statistics
Rushing (attempts-yards-TDs): Matt Hansen 9-66; Randy Leyendecker 14-63-1; Jaime Paul 3-61-1; Aaron Bachman 9-34-1;
Passing (completions-attempts-yards): Paul 4-5-47;
Receiving (receptions-yards-TDs): Hansen 2-43; Aaron Burris 1-9; Leyendecker 1-(-5);
Interceptions: Hansen; Paul;
Sacks: Jordan Spaeth 2; Sam Bayer 1;
Kickoffs: Bayer 4-172-43.0 average;
Kickoff Returns: Bachman 1-18; Hansen 1-15; Bayer 1-23;
Punts: Kevin Klein 2-55-27.5 average;
Punt Returns: None.
---
Contact the author at editor@paynesvillepress.com • Return to Sports
Home | Marketplace | Community
---