A 13-point, third-quarter outburst wasn't enough, as the Bulldogs football team dropped their third conference game to state-rated ACGC 38-13 on Friday night.

The Falcons, ranked 11th in Class AA in the state, remained undefeated on the year (4-0) and in the West Cental Conference South (3-0), where they are tied with Yellow Medicine East for the conference lead.

Once again, the Dogs missed a number of chances that could have changed the momentum of the game. In the first half, they dropped passes - one that might have led to a touchdown, another that would have resulted in a long gain - and dropped an interception during ACGC's first scoring drive.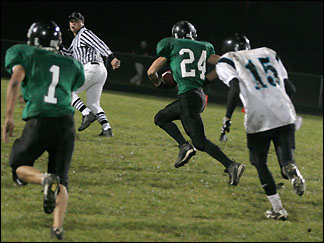 The Falcons drove 59 yards in ten plays in their first series to take a 7-0 lead. After the Dogs forced a fumble - recovered by senior Matt Hansen - to end their second series, the Falcons scored again on their third possession. Then they intercepted a pass to start the second quarter and scored again, building a 19-0 lead.
Senior Matt Hansen (24) broke into the open field in the third quarter after catching a short pass over the middle. He scored on a 58-yard pass play.
The Dogs, who were forced to punt on five of their six first-half possessions, forced ACGC to punt on their final possession of the half.
But the Falcons took the opening kickoff of the second half and scored their fourth touchdown, leading 26-0 at that point.
The two teams exchanged punts after that, with senior Alex Naujokas returning the ACGC punt 24 yards, giving the Dogs good field position to start their next drive. On the first play, Hansen took a short pass over the middle from junior quarterback Ted Hoffman and raced 58 yards to the end zone, cutting ACGC's lead to 26-7.
The Falcons scored another touchdown on their next possession, taking a 32-7 lead, but again the Dogs answered. Junior Brett Savelkoul took the first handoff around the right end and ran 80 yards down the sideline for the second Bulldogs' touchdown. Trailing 32-13, the Dogs had a chance to cut further into ACGC's lead when they forced a fumble in ACGC's territory, recovered by junior lineback Jordan Spaeth. However, the Dogs threw their second interception.
ACGC scored their final touchdown on a fake punt in the fourth quarter, making the final score 38-13.
The Dogs gained 246 yards against ACGC, but over half of that came in the third quarter, mostly the result of the two long scoring plays (138 yards) for the Dogs. ACGC rushed for 239, with sophomore Kurtis Huisman gaining 173 yards on 26 carries behind five seniors on the Falcons' offensive line. ACGC gained 18 first downs, compared to four for the Dogs, including two by the Dogs' second string offense.
Little things - two dropped passes and a dropped interception - hurt the Dogs again, said head coach Ted Nett. The Dogs played better in the second half, but they need to come ready to play, he added.
"We've got to step it up in those situations, instead of worrying about who we're playing," continued Nett. "The better the opponent, the better we have to play."
This week, the Dogs (1-3 overall, 0-3 in the WCC South) will travel to Morris to play the Tigers, who are 2-1 in the WCC South and 2-2 overall.
| | | | | | |
| --- | --- | --- | --- | --- | --- |
| ACGC-- | 13 | 6 | 13 | 6 | -- 38 |
| Paynesville-- | 0 | 0 | 13 | 0 | -- 13 |
Scoring Summary
First Quarter
ACGC-Kurtis Huisman 3 run (kick good);
ACGC-Vance Martin 6 pass from Jordan Tanner (kick missed);
Second Quarter
ACGC-Justin Schroeder 3 run (run failed);
Third QuarterBR> ACGC-Nic Leither 4 run (kick good);
Pay-Matt Hansen 58 pass from Ted Hoffman (Cyril Storkamp kick);
ACGC-Josh Siegfried 14 pass from Schroeder (run failed);
Pay-Brett Savelkoul 80 run (kick missed);
Fourth Quarter
ACGC-Huisman 41 pass from Martin (kick missed).
Individual Statistics
Rushing (attempts-yards-TDs): Brett Savelkoul 7-97-1; Shane Kampsen 4-22; Aaron Burris 6-12; Mike Wendlandt 5-9; Adam Youngs 2-7; Ted Hoffman 2-4; Matt Hansen 1-2; Travis Jimenez 1-(-3);
Passing (completions-attempts-yards-TDs-INTs): Hoffman 3-13-98-1-2;
Receiving (receptions-yards-TDs): Hansen 1-58-1; Wendlandt 1-34; Alex Naujokas 1-5;
Fumble Recoveries: Hansen 1; Jordan Spaeth 1;
Punts (#-yards-average): Burris 8-294-36.8;
Punt Returns: Naujokas 2-32;
Kickoff Returns: Savelkoul 4-62; Kampsen 1-15; Wendlandt 1-12.
---
Contact the author at editor@paynesvillepress.com • Return to Sports
Home | Marketplace | Community
---