Mages earns NSIC defensive honor for UMC
This article submitted on 9/27/00.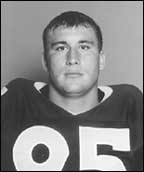 Jim Mages, a senior defensive lineman at the University of Minnesota-Crookston (UMC), was named the Northern Sun Intercollegiate Conference Defensive Player of the Week for his play on Saturday, Sept. 23.

Mages, a Paynesville Area High School graduate, keyed the UMC Golden Eagles' 17-0 victory over Minnesota State-Moorhead on Saturday with three quarterback sacks, resulting in a loss of 14 yards. Mages also assisted on seven tackles as the Golden Eagles shut out the Dragons. One of his assisted tackles also resulted in a loss of six yards.

Mages also contributed to the winning cause on special teams. Mages blocked a punt by the Dragons and recovered the ball for the Golden Eagles on the Moorhead State five-yard line. This set up the Golden Eagles' first touchdown of the day.

The victory evened the Golden Eagles' record at 1-1 in NSIC play. Overall, UMC is 2-2 for the season.
---