The Paynesville Bulldogs volleyball team lost two home conference matches last week, dropping a five-set match to Melrose on Thursday and getting swept by state-rated St. Cloud Cathedral on Tuesday.

Against Melrose on Thursday, the Bulldogs lost a close first set (25-23), won a close second set (27-25), and appeared to be on their way to victory after winning the third set (25-18). But Melrose rallied to win the fourth set (25-18) and won the tie-breaking fifth set (15-9) too.

Junior Sam Moser leaps and gets here hands on a Crusader spike last week. Moser had two ace blocks against Cathedral.

"This was a hard-fought match that could have gone either way. The momentum swings were very evident throughout the match. The team that maintained a consistent offensive attack was going to win and for a while it seemed like neither team wanted to finish the match off," said coach Dawn Knoll, who blamed mental errors at critical times for hurting the Dogs. Up two games to one, the Dogs were "rather confident about the match," said Knoll, "but our killer instinct didn't kick in and allow us to finish the match. This is a match that is hard to swallow the loss."

Cousins Brittany Lieser, a junior, and Amanda Glenz, a senior, led the Bulldogs with 12 kills and nine kills respectively. Senior Jessica Virant had 10 ace blocks, and Glenz added six.

The Bulldogs are now 0-4 in the West Central Conference North and 4-7 overall. This week, they played a nonconference match at EV-W on Monday and played a conference match at Sauk Centre on Tuesday. They will host LPGE on Thursday and will host Albany on Tuesday, Sept. 30.
| | | | | | |
| --- | --- | --- | --- | --- | --- |
| Melrose-- | 25 | 25 | 18 | 25 | 15 |
| Paynesville-- | 23 | 27 | 25 | 18 | 9 |
Individual Results
Hitting: Brittany Lieser 20/24 - 12A; Amanda Glenz 33/40 - 9A;
Serving: Amy Roberg 17/17 - 3A; Lieser 16/19 - 1A;
Blocks: Jessica Virant 10A; Glenz 6A;
Assists: Kendra Johnson 44/44 - 12A; Roberg 45/47 - 16A.

Cathedral 3, Paynesville 0
The Bulldogs were swept by the Crusaders of St. Cloud Cathedral, who are rated eighth in the state in Class A, on Tuesday, Sept. 16.
After winning the first set easily, the Crusaders faced a tougher challenge in the second and third sets. After trailing 16-11, the Dogs rallied to tie the score at 21-21 in the second set, only to have the Crusaders score the final four points and win 25-21.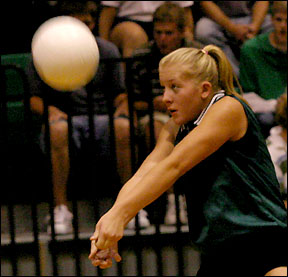 In the third set, the Crusaders built another early lead (14-7), but the Dogs outscored them 9-5 to cut the deficit to 19-16. Once again, though, the Crusaders (who were undefeated before losing to Albany later last week) prevailed, winning the third set 25-18.
Junior Val Callenius makes a dig against the Crusaders, who beat the Dogs on Tuesday, Sept. 16, in Paynesville
Coach Dawn Knoll was pleased with her team's play against the state-rated Crusaders, especially their 95 percent serving, but thought the Crusaders played more consistently, which resulted in their winning. "We played with the Crusaders throughout the match but never had a sustained attack," she said. "When we did all the little things right, we were scoring against their defense and had them struggling to set up their offense."
| | | | | | |
| --- | --- | --- | --- | --- | --- |
| Cathedral-- | 25 | 25 | 25 | | |
| Paynesville-- | 8 | 21 | 18 | | |
Individual Results
Hitting: Brittany Lieser 15/18 - 4A; Amanda Glenz 12/15 - 4A; Rachael Wendlandt 10/11 - 2A;
Serving: Amy Roberg 12/13 - 2A; Lieser 11/12 - 1A; Val Callenius 7/8;
Blocks: Glenz 5A; Jessica Virant 2A; Sam Moser 2A;
Assists: Roberg 38/38 - 11A; Kendra Johnson 25/25 - 5A.
---
Contact the author at editor@paynesvillepress.com • Return to Sports
Home | Marketplace | Community
---