Nehowig is named the new activities director
This article submitted by Linda Stelling on 9/22/99.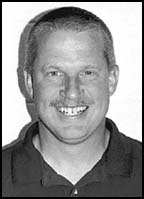 Kyle Nehowig, Paynesville, has been hired as the new activities director for the Paynesville Area School District.

The activities director position is responsible for scheduling all athletic events, hiring officials, and workers for the concession stand, and scorekeepers, supervising home games, ordering supplies, team uniforms, and evaluating the coaches.

"Some of the long-time coaches have been helping me learn the ropes and explaining things that I don't understand," Nehowig said. "When it comes to use of the school facility, I believe our students come first before outside groups."

Nehowig said his goal is to get as many students active in school activities as possible, be it in sports or in the fine arts. "Not everybody is going to be the star of the team or event, but let's get the students involved. They won't know if they like the activity unless they give it a try," he added. "It is hard to build a program without participants."

"I'm encouraging the coaches to play all the students in seventh through ninth grade. At the junior varsity level, their abilities are more fine tuned. The playing abilities of students change a lot from one year to the next," Nehowig said.

Nehowig added that he would like to see the Bulldog Booster Club re-activated. The club has been inactive for about two years.

A native of Madelia, Nehowig graduated from Mankato State University with a degree in parks and recreation and leisure services. He played football, basketball, competed in track in high school, and played two years of football at the Worthington Community College.

Nehowig worked at a private hunting preserve in Michigan for two years. Ten years ago he moved his family to rural Paynesville where he opened a dog kennel. Last year, he moved his family into town near the high school.

Nehowig was the assistant football coach under Virg Vagle for seven years before taking over the head coaching duties two years ago. He is also the head boys track coach and assistant gymnastics coach.

His wife Deb has been the assistant gymnastics coach and this year will move into the head coaching position. They have three children, Kacy, fifth grade; Kody, third grade; and Kohl, second grade.

Nehowig lists as his interests, sports, hunting, and fishing.
---