Heather Schmitt hopes to reach nationals
This article submitted by Linda Stelling on 9/22/99.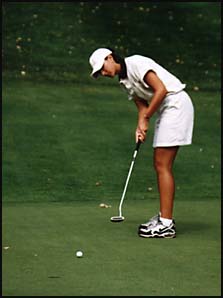 A senior at the College of St. Benedict, St. Joseph, Heather Schmitt, Paynesville, is hoping to earn a trip to the national golf tournament this fall.

Schmitt is a member of the college golf team and earned a trip to the nationals as a sophomore. "As a team we have a pretty good chance to qualify. We keep improving with each meet," Schmitt said. The team only lost one golfer from last year's team to graduation. There are 10 girls on the team, but only six are competing as three are sick and one is in Greece on a school trip.

"Individually, I haven't played as well this year, but I expect to improve," she said. Last year she had an average score of 82 for 18 holes. This year she has been averaging 85.

"When I started golfing as a freshman at St. Benedict's, the college team was an unknown. Each year we have been moving up the ladder. Last year we were ranked nationally seventh or eighth. This year we are the team to beat," she added.

Teams the College of St. Benedict compete against at most meets are the College of St. Thomas, St. Cloud State University, Concordia College, and Gustavus Adolphus. Schmitt said Gustavus and St. Thomas won their first meets but St. Benedict's placed ahead of Concordia in a recent tournament, placing fourth out of 20 teams.

"Playing golf can be time consuming, but I find it fun and an easy way to meet a lot of people," Schmitt said.

"The season is just getting under way. We compete for the NIAC championship the first weekend in October," she added. "We play on different courses all over the state from Marshall to Mankato, Wisconsin, and north. I'm getting to play on a lot of golf courses I wouldn't play on otherwise. Paynesville has a good course with lots of hills and trees.

Schmitt said she is enjoying her senior year at St. Benedict's. "The coaches know who you are when you meet them, they are more personable," she added. "At each meet, I go out and play to have fun."

The daughter of Tony and Janice Schmitt, Paynesville, Schmitt is an accounting major and communications minor. Schmitt will be graduating in May and plans on taking her CPA exam next summer.

"I did my internship at Ernst and Young, Minneapolis, and was offered a job after graduation," Schmitt said. "I'm pretty sure I'll accept the job offer. They have branch offices all over the world."

Blazers win tourney at Koronis Hills
The College of St. Benedict's women's golf team, led by Heather Schmitt, won the two-day All Saints Triangular over the weekend.

On Saturday morning, teams from CSB, St. Thomas, and St. Cloud State golfed 18-holes at Koronis Hills Golf Club in Paynesville. The tournament concluded with 18 holes of play in Somerset, Wis., on Sunday.

Schmitt shot an 85 at Koronis Hills, the second lowest total. She ended the two-day, 36-hole tournament with a total of 174, just one stroke behind the tournament's medalist, SCSU's Kristen Stordahl.

As a team, the Blazers beat St. Thomas by 11 strokes.
---