Bulldogs win third consecutive cross country meet
This article submitted by Ryan Flanders on 9/22/99.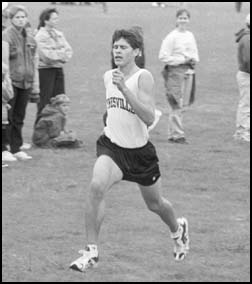 Six of the top ten runners were Bulldogs at the LPGE cross country meet on Monday, Sept. 13.

At the head of this vicious pack of Dogs was captain Clayton Lang, who crossed the finish line in third place with a time of 17:50.

Fourth, fifth, and sixth place were also occupied by Paynesville runners. Adam Utsch finished in 18:35 for fourth. Riley Flanders ran his strongest race so far this season in fifth, and one second behind him was Dan Pearson in 18:48.

Eric Korman and Ryan Flanders finished ninth and tenth, making six of Paynesville's seven runners medal winners.

Eric Rausch completed Paynesville's entire varsity team, finishing in 16th place with a time of 20:05.

"This was a fun meet," remarked Ryan Flanders.

Adam Utsch continues to run second for the Bulldogs. He finished fourth and 12th overall in meets last week.

Varsity team standings
1. Paynesville - 27
2. LPGE - 71
3. Sauk Centre - 74
4. Royalton - 103
5. Pierz - Inc.
6. Minnewaska - Inc.
7. BBE - Inc.

Individual results
3. Clayton Lang - 17:50
4. Adam Utsch - 18:35
5. Riley Flanders - 18:47
6. Dan Pearson -18:48
9. Eric Korman -19:08
10. Ryan Flanders - 19:17
16. Eric Rausch -20:05

Junior varsity
Travis Flanders ran a strong race and beat the competition by a good half minute. Tommy Flannigan also had an excellent race and finished third. Andrew Jones wasn't far behind in fourth, and Freddie Stock finished in ninth place.

JV results
1. Travis Flanders - 20:16
3. Tommy Flannigan - 21:19
4. Andrew Jones - 21:33
9. Freddie Stock - 22:30

Junior high
Jason Wendroth led the junior high guys with an impressive fifth place finish. The next Dog to cross the finish line was Matt Mehr in eighth place, and Chris Utsch finished ninth.

New London-Spicer
The boys once again stood up to the competition and took home their third consecutive championship trophy, owing to the fact that Staples' top four runners did not participate.

Clayton Lang finished in fourth place out of approximately 100 runners and accomplished the feat of breaking 17 minutes on New London's difficult course.

Adam Utsch was Paynesville's second runner, finishing 12th with a time of 17:42.

After being ineligible for the first three meets, Luc Trees returned to competition and finished in 17th place with a time of 17:58. If he continues working hard, he may prove to be the key runner for Paynesville to advance late in the season.

Freshmen Dan Pearson and Riley Flanders have both proven themselves consistent varsity runners and are invaluable to the team. Pearson was Paynesville's fourth runner, and finished in 20th with a time of 18:06. Flanders came in seven seconds later in 24th place.

Eric Korman filled in the team's sixth spot with a 27th place finish, and Ryan Flanders crossed the line in 37th place.

"In addition to depth, we have potential and the desire to continue improving. The key to developing that potential is to keep the desire to improve, and if that can be done then the season looks bright," said coach Darrel Carstens.

Varsity team standings
1. Paynesville - 77
2. Crosby-Ironton - 83
3. Staples-Motley - 129
4. New London-Spicer - 146
5. Morris -176
6. Redwood Valley -195
7. Wadena-Deer Creek - 213
8. LQPV -220
9. LPGE -222
10. Willmar -236
11. Annandale - 262
12. Perham - 263
13. Litchfield - 331
14. St. John's Prep - Inc.
15. Minnewaska - Inc.

Individual results
4. Clayton Lang - 16:59
12. Adam Utsch - 17:42
17. Luc Trees - 17:58
20. Dan Pearson - 18:06
24. Riley Flanders -- 18:13
27. Eric Korman - 18:31
37. Ryan Flanders - 18:52

Junior varsity
First and second place in the junior varsity race belonged to Eric Rausch and Travis Flanders. They defeated the competition by a considerable margin, and would easily be running varsity on nearly any other team in the area.

Tommy Flannigan was Paynesville's next runner, followed by Freddie Stock and Andrew Jones.

Junior high
Jason Wendroth once again led the pack in the junior high race with a 31st place finish. Chris Utsch ran a good race, finishing 35th, and Matt Mehr finished 45th.
---