The Paynesville boys' cross country team finished sixth at a 13-team meet at the Little Crow Golf Club last week.

The meet, hosted by New London-Spicer on Thursday, was won by MACCRAY (59), with Litchfield (72) second, NL-S (73) third, Lac Qui Parle Valley/Dawson-Boyd (97) fourth, Redwood Valley (99) fifth, and the Bulldogs (174) sixth.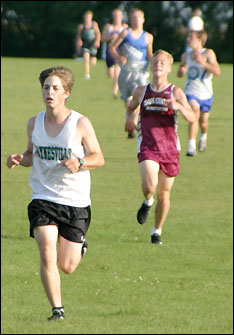 Senior Matt Mehr led the Dogs by placing 10th overall, earning another medal for his performance.
Sophomore Dugan Flanders was the second runner for the Dogs again, placing 24th overall.
Sophomore Dugan Flanders rushes to the finish line ahead of a field of runners. He finished 24th at NL-S last week in 18:48.
Sophomore Peder Thompson (37th), senior Chris Utsch (51st), and eighth grader Jamison Wall (52nd) completed the Dogs' team score.
The Dogs fared very well in the shorter junior high races, with Josh Sturtz winning the eighth grade race and with three runners in the top 11 in the eighth grade race and eight runners in the top 20 in the seventh grade race.
This week, the Dogs will run at Milaca on Saturday morning, starting at 10 a.m. This meet, formerly held in Princeton is believed to be "the world's largest cross country meet."
Team Scores
1. MACCRAY 59
2. Litchfield 72
3. New London-Spicer 73
4. LQPV/Dawson-Boyd 97
5. Redwood Valley 99
6. Paynesville 174
7. ACGC 197
8. Renville County West 236
9. BOLD 238
10. Morris 273
11. Howard Lake-Waverly 281
12. BBE Inc.
13. Minnewaska Inc.
Individual Results
10. Matt Mehr 18:06
24. Dugan Flanders 18:48
37. Peder Thompson 19:31
51. Chris Utsch 20:13
52. Jamison Wall 20:16
58. Nathan Friederichs 20:43
59. Chris Block 20:44
---
Contact the author at editor@paynesvillepress.com • Return to Sports
Home | Marketplace | Community
---