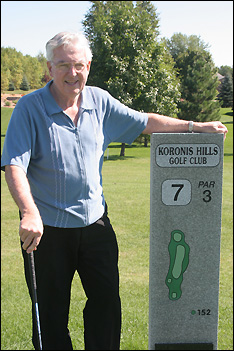 Father Richard Leisen got his second career hole in one last week and his first at Koronis Hills Golf Club. Leisen aced the par-3, 152-yard #7 on Monday, Sept. 12, from the forward tees with a driving iron.

Leisen - who has golfed since 1960 and has played at Koronis Hills for 18 years, since becoming the priest at St. Louis Catholic Church - was playing in the afternoon with his brother, Father Leo Leisen.

Father Richard Leisen hit a hole in one on the 152-yard #7 at Koronis Hills Gold Course on Monday, Sept. 12. Leisen got his second career ace with a utility iron from the forward tees.

The brothers play golf two times per week, usually just nine holes and normally on Mondays and Fridays, said Father Richard Leisen. Normally they play the white tees, but they played the green (forward) tees that Monday. At their ages - 77 for Leo, and 75 for Richard - if they don't use these tees now, when will they, asked Father Richard.

He had not used his driving iron much lately, but he hit it on #7 during a church scramble on Sunday, Sept. 11, hitting his shot over the green, he said. On Monday afternoon, it was just right.

"It hit in front (of the green) and rolled up, and we heard it hit the pin," said Father Leisen, who recalled thinking that it must have hit the pin pretty hard to make such a noise.

Since he knew his ball had hit the pin, Father Leisen thought it might have gone into the hole. "I said, 'I didn't see it after it hit the pin,' so I thought it possibly could've gone in." When he got to the green on #7 and didn't see his ball, he knew, "It's in the hole," he said.

It had to have hit the pin straight on to do so, which was lucky, he added. He shot 45 on nine holes on Monday, with his hole in one being the obvious highlight.

Father Richard Leisen got his first hole in one 19 years ago, at a tourney for priests in Sauk Centre in 1986. He used a five wood that time to ace a 157-yard par-3. Leisen and three other priests in his group couldn't see the green from that tee, he recalled, but another foursome of priests on the next tee saw it go in.

When asked about his two aces, all witnessed by priests, Leisen said his witnesses were all men of the cloth because that's whom he usually plays golf with.

Father Richard and Father Leo have played together at Koronis Hills for most of the past 18 years, said Richard, except for a nine-month stint when Leo was in Brandon. Leo, who used to be assigned to Eden Valley, now lives in Roscoe and serves the Roscoe, Lake Henry, and Spring Hill parishes. They also golf together on their winter vacations, said Richard.

Father Leisen's ace is the sixth recorded on #7, which was a new hole that opened when the course expanded to 18 holes in 1997. The other holes in one on #7 are: Dorothy Martinson, September 1998; Jim Loomis, October 2001; Pastor Dave Nelson, July 2002; Chuck Chesness, October 2001; and Brian Weiss, August 2003.

Father Leisen has already gotten congratulations for his ace from parishioners and from the general public. With two local pastors acing the same hole at Koronis Hills, some ministerial counterparts have teased him that it's their turn.

He just laughed when asked questions about whether his hole in one demonstrated God's ecumenical nature toward golf; a Lutheran pastor already had one on #7, right?

Both he and his brother have had close calls with holes in ones before, said Father Leisen. To get one, you need both a good shot and good luck, he explained.

Getting a hole in one is not proof that God answers prayers on the golf course, he added. Prayer does give you peace of mind, which allows you to relax and focus on golf. Instead of prayer, Father Leisen offers a more practical tip for improving at golf: "The important thing is to keep your head down."

Father Leisen said he plans to keep playing golf because he enjoys the exercise, being outdoors, and taking a break from his work.
---
Contact the author at editor@paynesvillepress.com • Return to Sports
Home | Marketplace | Community
---