The Paynesville girls' cross country placed seventh at the Little Crow Invite last week. The 14-team meet was held at the Little Crow Country Club and was hosted by New London-Spicer.

Junior Kacy Nehowig led the Dogs with a third-place run, recording her second straight top-five finish this fall. She trailed only the Swenson sisters from Lac Qui Parle Valley/Dawson-Boyd. Junior Nikki Swenson, the 2003 Class A champ and 2004 runner-up, won the race by more than a minute, while her ninth grade sister Kelly was second, with Nehowig third.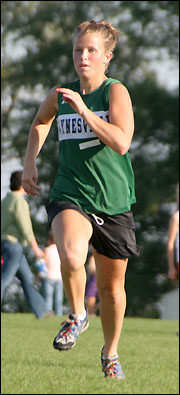 The Dogs ran without two of their top three runners, with ninth grader Linda Keller out sick and sophomore Kaitlyn Frenchick at a prior commitment.
Junior Kacy Nehowig placed third at the Little Crow Invite on Thursday, trailing the Swenson sisters from Lac Qui Parle Valley/Dawson-Boyd.
Sophomore Melanie Koerner (37th), ninth grader Kally Felling (44th), senior Sheena Hoekstra (46th), and junior Kirsten Miller (51st) completed the Dogs' team score.
Canby-Minneota-Lincoln (47) won the girls' title, with Lac Qui Parle Valley/Dawson-Boyd (93) edging Redwood Valley (94) for second. New London-Spicer (112), Yellow Medicine East (137), and Litchfield (150) were next, followed by Paynesville (181).
Other highlights for the Dogs were ninth grader Kelsey Miller being the top JV runner, and seventh graders Katie Weidner and Janice Boeck both finishing in the top 20 in the junior high race in their first cross country meet.
This week, the Dogs ran in a meet at Pierz, which also will host their sectionals this year, on Monday. The Dogs will run in the mega-meet at Milaca on Saturday, Sept. 24, with the meet starting at 10 a.m.
Team Scores
1. Canby-Minneota-Lincoln 47
2. Lac Qui Parle Valley/D-B 93
3. Redwood Valley 94
4. New London-Spicer 112
5. Yellow Medicine East 137
6. Litchfield 150
7. Paynesville 181
8. ACGC 203
9. Morris 213
10. BOLD 222
BBE Inc.
MACCRAY Inc.
Minnewaska Inc.
Renville County West Inc.
Individual Results
3. Kacy Nehowig 17:05
37. Melanie Koerner 19:39
44. Kally Felling 20:30
46. Sheena Hoekstra 20:50
51. Kirsten Miller 21:15
Tarin Beireis 22:29
---
Contact the author at editor@paynesvillepress.com • Return to Sports
Home | Marketplace | Community
---