The Bulldogs volleyball team lost in straight sets to Sauk Centre on Monday, Sept. 11. The Mainstreeters remained undefeated in conference play with the three-set victory.

The Mainstreeters cruised in the first game 25-6 and in the third game 25-8. The Dogs played their best in the second game, losing 25-20. The Dogs scored over half of their points in this second game.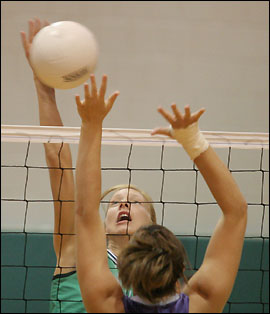 The Mainstreeters, for the match, won 68 percent of the points.
Sauk Centre is tied with St. Cloud Cathedral for the lead in the West Central Conference North with records of 5-0. The Mainstreeters lost to the Crusaders in the finals of a tournament in Sauk Rapids over the weekend.
Senior Kristin Lang led the Dogs with 12 kills and three service aces against New London-Spicer last week.
"Sauk Centre is a very good team," said coach Dawn Knoll. "The Bulldogs had some long rallies against the Mainstreeters and kept the ball alive with some very good passing but did not execute a strong attack of our own."
"When we give the opponents the opportunity to attack again, we end up playing a lot of defense," added Knoll. "Our focus has to be more aggressive offense."
The Dogs (0-4 in the WCC North and 0-8 overall) played at LPGE on Monday, with both teams looking for their first conference win.
The Dogs will host Minnewaska on Thursday this week. Next week, they will play at Albany on Monday, Sept. 25, and will host Cathedral on Tuesday, Sept. 26.
| | | | | | |
| --- | --- | --- | --- | --- | --- |
| Sauk Centre-- | 25 | 25 | 25 | | |
| Paynesville-- | 6 | 20 | 8 | | |
Individual Statistics
Hitting: Laura Schaefer 18/29 - 2A; Kristin Lang 11/13 - 2A; Chelsey Kalkbrenner 9/16 - 2A; Kate Olson 5/7 - 1A; Team 50/76 - 7A;
Serving: Kayla Lieser 8/8; Amanda Lieser 6/7; Chelsey Hansen 4/4; Lang 4/5 - 1A; Team 32/37 - 1A;
Blocks: Lang 2; Schaefer 2; Kalkbrenner 1; Assists: Hansen 60/68 - 8A; Team 64/72 - 8A;
Digs: Kayla Lieser 11; Ashley Ogdahl 9; Team 34.
NL-S 3, Paynesville 1
New London-Spicer defeated the Bulldogs in volleyball in four sets on Thursday night at PAHS.
Trailing 1-0, the Dogs lost a close second set 26-24 before winning the third set 25-20. Leading 2-1, the Cats closed out the match by winning the fourth set 25-15.
"The Wildcats came out with a very strong server, and the Bulldogs were trailing 7-0 before we were able to get a sideout," said Knoll. "There were several very long rallies throughout the match."
"Our offense did not play as aggressively as we need to in order to be successful," continued Knoll. "We gave NL-S too many chances to play the ball back and get strong attacks. Our hitters need to put the ball to the floor with authority and more consistency."
Senior Kristin Lang led the Dogs with 12 kills against NL-S. She was also perfect in 14 service attempts with three aces.
Senior Chelsey Kalkbrenner added eight kills and four blocks, and senior Amanda Lieser added seven kills and 13 digs.
Junior libero Kayla Lieser also had three service aces and led the team again with 15 digs.
Junior Chelsey Hansen also had 13 digs and had 18 set assists.
| | | | | | |
| --- | --- | --- | --- | --- | --- |
| NL-S-- | 25 | 26 | 20 | 25 | |
| Paynesville-- | 14 | 24 | 25 | 15 | |
Individual Statistics
Hitting: Kristin Lang 25/35 - 12A; Laura Schaefer 19/23; Chelsey Kalkbrenner 19/30 - 8A; Amanda Lieser 18/27 - 7A; Kate Olsen 8/12 - 2A; Anna Kotten 6/11 - 2A; Team 95/135 - 31A;
Serving: Lang 14/14 - 3A; Kayla Lieser 14/15 - 3A; Schaefer 13/13 - 1A; Chelsey Hansen 13/14 - 1A; Team 75/81 - 8A;
Blocks: Kalkbrenner 4; Amanda Lieser 2; Lang 1; Kate Olson 1;
Assists: Hansen 93/101 - 18A; Kotten 8/8; Team 102/110 - 18A;
Digs: Kayla Lieser 15; Hansen 13; Amanda Lieser 13; Schaefer 11; Team 72.
Montevideo Tourney
The Bulldogs volleyball team lost four two-set matches at a tourney in Montevideo on Saturday, finishing in eighth place in the eight-team tournament. Host Montevideo won the tournament.
The Dogs lost to Montevideo, Lakeview, and KMS in the pool play and then lost to Lincoln-HI in the seventh-place match.
The Dogs lost to Montevideo 25-19 and 25-16. Their closest games were 25-23 losses to KMS and Lincoln-HI.
"The tournament gave us the opportunity to play a variety of players in different positions. Even though we did not win any of the matches, the tournament gave us the chance to see players in some different roles and get used to these roles in match play rather than just in practice," said Knoll.
One possibility, said Knoll, is to have senior Kristin Lang play outside hitter and have sophomore Anna Kotten play middle hitter. Senior Randi Schaefer, juniors Ashley Ogdahl and Carissa Utsch, and sophomore Kelli Flannigan showed that they can contribute in the back row if needed, added Knoll.
Pool Play

| | | |
| --- | --- | --- |
| Paynesville-- | 19 | 16 |
| Montevideo-- | 25 | 25 |
| | | |
| --- | --- | --- |
| Paynesville-- | 12 | 13 |
| Lakeview-- | 25 | 25 |
| | | |
| --- | --- | --- |
| Paynesville-- | 23 | 12 |
| KMS-- | 25 | 25 |
Seventh Place

| | | |
| --- | --- | --- |
| Paynesville-- | 18 | 23 |
| Lincoln-HI-- | 25 | 25 |
---
Contact the author at editor@paynesvillepress.com • Return to Sports
Home | Marketplace | Community
---