The Paynesville boys' cross country team placed sixth, out of 15 teams, at the Little Crow Invitational on Thursday.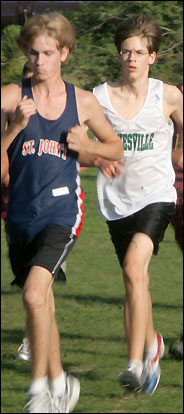 Eighth grader Tanner Wendroth led the Dogs by finishing tenth overall, earning a medal. He passed senior Dugan Flanders heading into the homestretch.
Sophomore Ezra Thompson ran third for the Dogs at Little Crow last week, finishing 30h overall.
Flanders was the Dogs' second runner, finishing ten seconds behind Wendroth in 12th place.
Sophomore Ezra Thompson (30th), senior Peder Thompson (32nd), and ninth grader Kohl Nehowig (50th) completed the Dogs' team score.
Lac Qui Parle Valley/Dawson-Boyd (78) won the meet, followed by Renville County West (96), Redwood Valley (111), and Canby (119). Benson (130) edged the Dogs (134) for fifth, with Paynesville finishing sixth at the meet.
"Our boys are making good progress," said coach Darrel Carstens. "I see us getting better every meet. We are not that far from the top teams, and we will be getting better."
This week, the Dogs ran at Pierz on Monday. On Saturday, they will travel to Foley for the mega-meet, which starts at 9 a.m.
Team Scores
1. Lac Qui Parle Valley/D-B 78
2. Renville County West 96
3. Redwood Valley 111
4. Canby 119
5. Benson 130
6. Paynesville 134
7. MACCRAY 149
8. New London-Spicer 197
9. Morris 230
10. Yellow Medicine East 231
11. BOLD 291
12. ACGC 313
13. BBE 313
Minnewaska Inc.
St. Cloud Cathedral Inc.
Individual Results
10. Tanner Wendroth 18:31
12. Dugan Flanders 18:41
30. Ezra Thompson 19:51
32. Peder Thompson 20:06
50. Kohl Nehowig 20:51
53. Josh Sturtz 21:57
---
Contact the author at editor@paynesvillepress.com • Return to Sports
Home | Marketplace | Community
---