Trio places in the top ten at two races
This article submitted by Michael Jacobson on 9/20/00.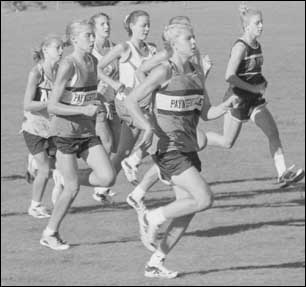 Against three of the toughest teams in state at the NL-S Invite on Thursday, Paynesville had three runners finish in the top ten and earn individual medals. As a team, the Bulldogs were fifth.

Junior Jenny Hess continued her winning ways on the Little Crow golf course, outrunning her opponents by a half a minute. This was her fourth title so far this fall. Her winning time was 15:18.

Jenny Hess leads a pack of runners at the start of a race as Brooke Schmitz (left) tries to keep with the pace. Hess is undefeated so far, while Brooke, a 7th grader, has earned a medal at every race.

Seventh grader Brooke Schmitz was eighth, and eighth grader Kim Hess was ninth. Their times were 11 seconds apart, at 16:16 and 16:27 respectively. Schmitz has now finished in the top ten in all four of her varsity meets, including twice being in the top five.

Kim Hess has earned medals in three of four races so far this fall.

"It was great having three medal winners in such a tough contest," said head coach Darrel Carstens.

Leading the team scores was the host squad, New London-Spicer, at 67, followed by Staples-Motley at 86 and Wadena-Deer Creek at 93. Carstens considers all three to be state contenders. All three are also in Paynesville's section. Willmar, a Class AA school, was fourth at 105, and Paynesville was fifth at 133.

Completing the varsity score for Paynesville were Trisha Wendlandt (53rd in 19:10), Mesa Frenchick (62nd in 20:04), and Mellody Veldkamp (64th in 20:33).

Team standings
1. New London-Spicer - 67
2. Staples-Motley - 86
3. Wadena-Deer Creek - 93
4. Willmar - 105
5. Paynesville - 133
6. Cathedral - 148
7. Minnewaska - 164
8. Redwood Valley - 180
9. Annandale - 206
Lac qui Parle Valley - Inc.
Litchfield - Inc.
LPGE - Inc.
Morris - Inc.

Individual results
1. Jenny Hess - 15:18
8. Brooke Schmitz - 16:16
9. Kim Hess - 16:27
53. Trisha Wendlandt - 19:10
62. Mesa Frenchick - 20:04
64. Mellody Veldkamp - 20:33

LPGE meet
Paynesville swept the top three places at the Long Prairie-Grey Eagle meet on Monday, Sept. 11. Jenny Hess won the six-team race, Brooke Schmitz was second, and Kim Hess was third for Paynesville. All three earned medals.

Coming in fourth for Paynesville was Trisha Wendlandt. She was 22nd in 19:43. Mesa Frenchick was 32nd in 21:06 to complete the five scores for the Bulldogs.

Right behind Frenchick was Mellody Veldkamp, who finished 33rd in 21:10 for Paynesville.

As a team, the Bulldogs posted a season-low score of 60 at the small meet. That was good enough for second, behind Sauk Centre, which scored 37.

Team standings
1. Sauk Centre - 37
2. Paynesville - 60
3. Brainerd - 66
4. Minnewaska - 72
5. Long Prairie-Grey Eagle - 99
6. Belgrade-Brooten-Elrosa - 158

Individual results
1. Jenny Hess - 15:36
2. Brooke Schmitz - 16:52
3. Kim Hess - 17:04
22. Trisha Wendlandt - 19:43
32. Mesa Frenchick - 21:06
33. Mellody Veldkamp - 21:10

The Bulldogs' only meet this week will be on Saturday at Princeton. Dubbed the "World's largest cross country meet," the meet will include three classes, nearly 100 teams, and more than a thousand runners. More than 40 teams, including Paynesville, are registered in Class A alone.

The meet will be held in a field behind the Milaca Government Center. Spec-tators should take Highway 23 to Central Avenue and turn north.

The girls' varsity race in Class A is scheduled to start at 12:20 p.m.

There also will be an old timer's race for runners out of high school. This two-mile race will start at 2:40 p.m. The registration fee is $1.
---