Bulldogs beat four-time state champ at NL-S meet
This article submitted by Ryan Flanders on 9/20/00.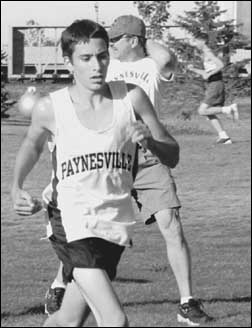 The Paynesville boys' cross country team defeated four-time defending state champion Staples-Motley Thursday. The stage for this battle was the rolling hills of the Little Crow golf course between New London and Spicer.

The Bulldogs also beat the Cardinals last year, but this time, Staples-Motley ran their entire varsity squad, with the exception of injured third runner Chad Brever.

The convincing team victory was led by Clayton Lang, who ran with the front pack during the race. He finished in fifth place, ahead of Staples' second runner.

Biting at the heels of Staples' third runner was Adam Utsch. Utsch netted an eighth place finish.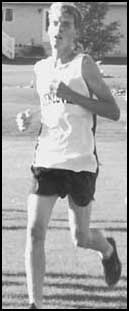 Dan Pearson (at right) was tearing up the fairways at the head of the next field of runners, entering the chute in the top ten with a time of 17:50.
Jesse Rien (above at left) dug his claws in the home stretch and captured two additional places for the Bulldogs. He came in 12th, seven ticks of a watch behind Dan.
The team's key fifth position was assumed by Eric Korman, who brought home some hardware for his 14th place performance. In all, the team had five medalists.
Travis Flanders was only two spots short of a medal for Paynesville. He held his top position throughout the race, finishing sixth for the team and 17th individually. Ryan Flanders finished in 28th, to put all seven Bulldog runners ahead of Staples' fifth runner.
Having five runners in the top 15, yielded the Bulldogs a team score of 49. Staples-Motley was second at 64. Wadena-Deer Creek, led by medalist Adam Ansfeld, was third at 89.
Both Staples-Motley and Wadena-Deer Creek are in Paynesville's section.
The Bulldogs have a full week of training ahead of them before competing at the world's largest cross country meet on Saturday. The meet features more than 40 teams in Class A, including the top four ranked teams in the state.
Despite being called the Princeton Invitational, the meet will be held behind the Milaca Government Center. Take Highway 23 to Central Avenue North in Milaca.
The boys' junior high races will start at 11 a.m. The junior varsity race for boys starts at 1:20 p.m., and the Bulldogs' varsity will run at 1:40 p.m.
Team standings
1. Paynesville - 49
2. Staples-Motley - 64
3. Wadena-Deer Creek - 89
4. Willmar - 139
5. New London-Spicer - 140
6. Annandale - 147
7. LQPV-DB - 162
8. Redwood Valley - 209
8. Morris Area - 209
10. Litchfield - 240
11. Minnewaska - Inc.
Individual results
5. Clayton Lang - 16:57
8. Adam Utsch - 17:29
10. Dan Pearson - 17:50
12. Jesse Rien - 17:57
14. Eric Korman - 18:11
17. Travis Flanders - 18:20
28. Ryan Flanders - 18:49
Junior varsity
1. Riley Flanders - 18:48
2. Scott Thompson - 19:04
Long Prairie-Grey Eagle meet
(Results from Monday, Sept. 11)
Team standings
1. Paynesville - 26
2. Brainerd - 68
3. Long Prairie-Grey Eagle - 81
4. Sauk Centre - 104
5. Belgrade-Brooten-Elrosa - 155
6. Litchfield - 162
7. Minnewaska - 182
8. Royalton - Inc.
Individual results
2. Clayton Lang - 17:12
4. Adam Utsch - 17:51
5. Dan Pearson - 17:58
6. Jesse Rien - 18:05
9. Eric Korman - 18:48
15. Travis Flanders - 19:05
21. Riley Flanders - 19:44
Junior varsity
1. Ryan Flanders - 19:15
2. Scott Thompson - 19:24
3. Tom Flannigan - 20:08
6. Freddie Stock - 20:46
9. Jason Wendroth - 20:57
19. Andrew Jones - 22:50
29. Chris Utsch - 24:54
Junior high
1. Matt Mehr - 13:04
---