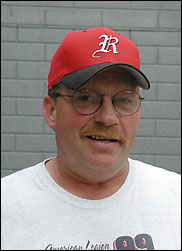 Let's just say that when he's inducted into the Minnesota Amateur Baseball Hall of Fame on Saturday, Don Heinen will lower the average age of the inductees.

Heinen, 49, a nearly lifelong resident of Roscoe and a stalwart for the Roscoe Rangers for the past 35 years, will be one of five inductees in 2002, bringing total membership in the Hall of Fame to 219, of whom almost half are deceased.

Heinen will become the second member of the Roscoe Rangers to be inducted in the Hall of Fame, joining long-time scorekeeper, statistician, and youth baseball coach Art Schlangen, who was inducted in 1993. Heinen's induction ceremony will be held at the St. Cloud Civic Center on Saturday afternoon.

Heinen grew up on a farm just east of Roscoe and played baseball whenever he got a chance. He started suiting up for the Rangers in 1967, at the age of 14, before he played for the high school team. He graduated from Paynesville High School, where he played on the varsity team, in 1971.

Heinen played shortstop for the Rangers for a dozen years, pitched, and moved to first base in the later years of his career. He played every position except catcher in his career and took pride in his defense. He hit over .340 in at least three seasons and was named a Stearns County League All-Star 13 times.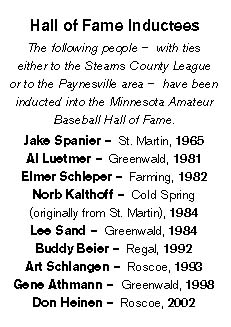 He took his last at bat for the Rangers in 1995, 29 years after first joining the team.
In addition to playing on the field with the team, Heinen - who has lived in or near Roscoe for all but a couple months of his life - has served the team in a number of capacities off the field. He has managed the team twice: as a co-manager in 1980 and 1981 and as manager from 1994-96.
He has served as the baseball club president and as president of the Roscoe Recreation Club. "Sunday afternoons are a piece of cake," said Heinen of the work involved behind-the-scenes for a successful amateur team. "It's during the week. It's cutting the grass."
"For me, it was easy to be around here," he added, "because I've lived here all my life."
Working for a amateur baseball team gets in your blood, said Heinen, who still serves as the Rangers' public address announcer, and you can't seem to stop. "I enjoy being part of it," he said. "I wish I could still play."
Like many Stearns County families, baseball is a family affair for the Heinens. Don and his wife, Mary, have two sons, Greg and Brent, who play for the Rangers. Last year, Brent was drafted and played in the regions with Richmond, and this year Greg was drafted, played in the regions with Richmond, and played in state with Farming.
Mary has helped her husband make out more than one starting lineup, Don said, and their daughter, Kelli, has always been a big help around the ballpark, too. "This has been a family tradition," he said. "They all get involved in it."
During the state tournament this year, Heinen threw out the first pitch before a Class B semifinal between Austin and Rochester. He also helped broadcast games on KASM radio, covering Cold Spring, Elrosa, and Farming with play-by-play announcer Randy Rothstein, a long-time Roscoe player who spearheaded Heinen's nomination to the Hall of Fame.
Heinen's #15 was retired by the Rangers in May 2001. It was the first jersey number retired by the team, which has since retired the #11 worm by long-time manager and player Charlie Mackedanz.
Heinen - who has also served in the Roscoe city government as mayor or on the city council for 18 years and is active at St. Agnes Catholic Church in Roscoe as well - believes the Stearns County League is the best amateur league in the state due to the rivalries with neighboring towns, the local players, and the intense fan support. "I loved playing in the Stearns County League," he said.
Heinen will become the second member of his family in the Hall of Fame. His cousin, Al Luetmer of Meire Grove, was inducted in 1981.
---
Contact the author at editor@paynesvillepress.com • Return to Sports
Home | Marketplace | Community
---