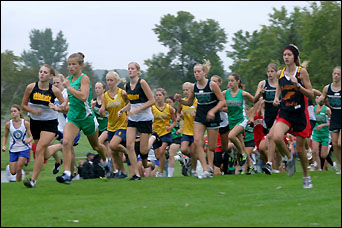 The Paynesville girls' cross country team finished second at the New London-Spicer meet on Thursday, behind only the host Wildcats, the three-time defending state champions in Class A.

The Wildcats - rated second in the state - placed seven runners in the top 14 to win their home meet.

The Bulldogs - rated 13th in the state - were led by ninth graders Kacy Nehowig (second from left in the front of the pack) and Tanis Beireis, who each finished in the top five.

Nehowig - rated tenth in Class A individually after earning all-state honors last year - ran ahead of the pack with Nikki Swenson from Lac Qui Parle Valley/Dawson-Boyd during the race. Swenson, rated sixth in the state, won by four seconds, with Nehowig taking second in 15:56.

Beireis recorded her second straight, and second career, top-five finish by taking fifth in 17:13.

Seventh grader Rheanne Zimmerman made her varsity debut by placing in the top 20. She ran the course in 18:41 and finished 18th overall.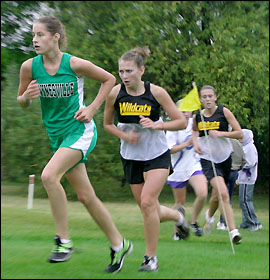 Completing the Bulldogs' team score were ninth grader Krista Wendroth in 25th and eighth grader Melanie Koerner in 34th. Sophomore Lindsey Wyffels also finished 55th.
Ninth grader Tanis Beireis recorded her second top five finish individually at NL-S last week, placing fifth and earning a medal.
"We had a good run at NL-S," said coach Darrel Carstens. "We are still young and growing with confidence."
The junior high girls ran very well with eighth grader Tarin Beireis in fifth, seventh grader Kelsey Miller 11th, eighth grader Allie Wendroth in 12th, ninth grader Morgan Kern in 13th, and eighth grader Shanna Hoekstra in 14th.
This week, the Bulldogs will run in a large meet, over 100 teams, at Milaca on Saturday. The meet starts at 10 a.m.
Team Scores
1. New London-Spicer 44
2. Paynesville 84
3. LQPV/Dawson-Boyd 93
4. Morris 96
5. Litchfield 133
6. Redwood Valley 170
7. BOLD 192
8. Minnewaska 202
9. BBE 239
10. Renville County West 260
11. ACGC INC.
12. HL-W-W INC.
13. MACCRAY INC.
Individual Results
2. Kacy Nehowig 15:56
5. Tanis Beireis 17:13
18. Rheanne Zimmerman 18:41
25. Krista Wendroth 18:55
34. Melanie Koerner 19:19
55. Lindsey Wyffels 20:53
---
Contact the author at editor@paynesvillepress.com • Return to Sports
Home | Marketplace | Community
---