Undefeated Albany rushed for 370 yards and seven touchdowns in beating Paynesville on Friday night in a nonconference football game. The Bulldogs led briefly at 8-6 in the first quarter, but Albany scored 47 unanswered points and won 53-8.

After Albany scored on their opening drive - but missing the extra point kick - ninth grader Randy Leyendecker returned the kickoff 22 yards to Paynesville's 37-yard line. The Bulldogs got one first down on two running plays, and then Leyendecker broke loose down the right sideline, scoring the Dogs' only touchdown on a 51-yard run.

Sophomore quarterback Jamie Paul - who completed five of six passes for 54 yards - connected with junior fullback Mike Mueller for the two-point conversion, giving the Bulldogs an 8-6 lead.

That lead proved to be brief.

Albany drove 71 yards for another touchdown on their ensuing series. After a penalty on Albany, the Dogs had the Huskies in second and long, but senior Josh Harrison, from St. Martin, made a leaping catch on a 30-yard completion.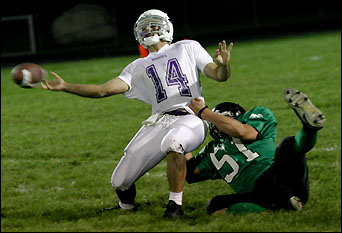 Senior running back Aaron Blackmore scored on a 26-yard run on the next play, giving the Huskies a 12-8 lead.
A botched kick return pinned the Bulldogs deep in their territory on their next possession, and two penalties forced the Dogs to punt from their end zone. With a short field, Albany scored again, with Blackmore running into the end zone for the third time in the first quarter.
Senior defensive end Pat Utsch (51) takes Albany quarterback Matt Meyer to the ground but not before Meyer completed a pass for the Huskies. Paynesville led briefly 8-6, but Albany beat the Bulldogs 53-8.
The Bulldogs drove into Albany territory twice to start the second quarter, forcing Albany to punt in between. Paul hit Mueller with passes on both drives to gain 20 and 19 yards respectively, and Leyendecker (who rushed for 101 yards) had an 18-yard run on the first drive.
But the first drive ended when the Dogs turned the ball over on downs, and the second drive ended with a fumble. On the next play, Huskies junior fullback Ryan Mareck scored on a 61-yard run.
Albany scored again right before the half to take a 32-8 lead into halftime and returned the kickoff to start the second half for a touchdown, increasing their lead to 39-8. Albany scored twice more in the second half.
Albany (3-0) outgained the Bulldogs 445 yards to 205 yards and outrushed the Bulldogs 370 to 151.
The Bulldogs (0-3) have lost three nonconference games to three undefeated teams; St. Cloud Cathedral, New London-Spicer, and Albany are all 3-0.
This week, the Bulldogs will start their conference season with a road game at Montevideo (0-3) on Friday, Sept. 19, starting at 7 p.m.
In the West Central South, Benson and Lac Qui Parle Valley are 2-1 so far, while LPGE, Morris, Montevideo, and Paynesville are 0-3.
| | | | | | |
| --- | --- | --- | --- | --- | --- |
| Albany-- | 18 | 14 | 14 | 7 | -- 53 |
| Paynesville-- | 8 | 0 | 0 | 0 | -- 8 |
Scoring Summary
First Quarter
Alb-Aaron Blackmore 4 run (kick missed);
Pay-Randy Leyendecker 51 run (Mike Mueller pass from Jamie Paul);
Alb-Blackmore 26 run (run failed);
Alb-Blackmore 5 run (run failed);
Second Quarter
Alb-Ryan Mareck 69 run (Blackmore kick);
Alb-Ben Douvier 43 run (Blackmore kick);
Third Quarter
Alb-Mareck 75 kick return (Blackmore kick);
Alb-Douvier 21 run (Blackmore kick);
Fourth Quarter
Alb-Aaron Sand 1 run (Blackmore kick);
Individual Statistics
Rushing (attempts-yards-TDs): Randy Leyendecker 19-101-1; Aaron Bachman 7-36; Mike Mueller 6-18; Doug Mages 1-10; Eric Hansen 2-3; Jamie Paul 3-(-15);
Passing (completions-attempts-yards): Paul 5-6-54; Sean Glenz 0-2-0;
Receiving (receptions-yards): Mueller 4-54.
---
Contact the author at editor@paynesvillepress.com • Return to Sports
Home | Marketplace | Community
---