The Paynesville boys' cross country team finished sixth out of 13 teams at the NL-S Invite last week, held at the Little Crow Country Club.

Junior Matt Mehr led the Dogs with a career-best finish, earning a medal by taking 12th in 18:32.

Senior Chad Wyffels and ninth grader Dugan Flanders finished four seconds apart. Wyffels was 26th in 19:01, and Flanders was 27th in 19:05.

Junior Chris Utsch was 32nd in 19:46, and junior Jason Wendroth was 45th in 20:33 to complete the Dogs' team score.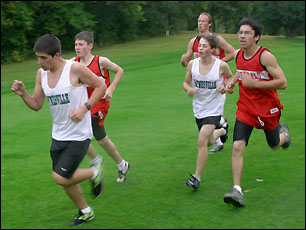 Junior Todd Thielen, in his first varsity race, and ninth grader Peder Thompson finished a second apart, with Thielen in 50th and Thompson in 51st.
Chris Utsch and Dugan Flanders are trying to keep up with the pack. Dugan Flanders took 27th, while Chris Utsch took 32nd, respectfully.
Paynesville's junior high boys took first place out of 13 schools, with three runners in the top five and six in the top 15. Seventh grader Nathan Friedrichs was second, seventh grader Jamison Wall third, and sixth grader Kohl Nehowig fifth. Eighth grader Josh Sturtz was ninth, seventh grader Russell O'Fallon 11th, and seventh grader Ezra Thompson 15th.
"It is a fun group of athletes, and the rest of the year looks exciting and promising," said coach Darrel Carstens.
This week, the Bulldogs will run in a large meet at Milaca - with over 100 teams - on Saturday. The meet starts at 10 a.m.
Team Scores
1. LQPV/Dawson-Boyd 55
2. MACCRAY 60
3. Litchfield 67
4. Redwood Valley 93
5. New London-Spicer 104
6. Paynesville 142
7. BOLD 201
8. Morris 219
9. HL-W-W 300
10. BBE 315
11. Minnewaska 324
12. ACGC INC.
13. Renville County West INC.
Individual Results
12. Matt Mehr 18:32
26. Chad Wyffels 19:01
27. Dugan Flanders 19:05
32. Chris Utsch 19:46
45. Jason Wendroth 20:33
50. Todd Thielen 21:12
51. Peder Thompson 21:13
---
Contact the author at editor@paynesvillepress.com • Return to Sports
Home | Marketplace | Community
---