With three medalists, the Dogs girls' cross country team finished fourth over the flat course at the BBE Invite last Thursday.

Sophomore Kacy Nehowig, ninth grader Kaitlyn Frenchick, and sophomore Tanis Beireis all placed in the top ten individually for the Bulldogs and earned medals. Nehowig finished third in 16:16, Frenchick ran 14 seconds behind her in fourth, and Beireis, battling shin splints, took seventh in 16:40.

Ninth grader Melanie Koerner (33rd) and sophomore Sheena Hoekstra (46th) completed the Dogs' team score.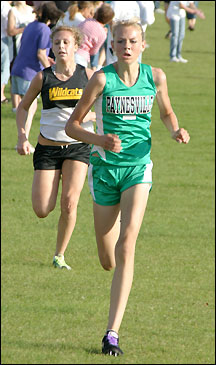 Sauk Centre (69) beat NL-S (69) on a tie-breaker for the team title. Morris (90) was third, and Paynes-ville (93) was fourth.
According to coach Darrel Carstens, both the boys' and girls' teams improved from their first meet, and the runners are still developing and looking for more individual improvement.
Ninth grader Kaitlyn Frenchick recorded a top five finish at Brooten last week, one of three Dogs runners to earn a medal for the girls' team. She finished fourth overall in 16:30.
Lena Wolosek, a German foreign exchange student, led the girls' junior varsity team by finishing fourth at BBE.
This week, the Dogs will run at the NL-S meet on Thursday, Sept. 16, at the Little Crow Golf Club between New London and Spicer.
Team Scores
1. Sauk Centre 69
2. New London-Spicer 69
3. Morris 90
4. Paynesville 93
5. Redwood Valley 152
6. Albany 204
7. Litchfield 209
8. Minnewaska 251
9. ACGC Inc.
10. BBE Inc.
11. BOLD Inc.
12. Buffalo Lake-Hector Inc.
13. Holdingford Inc.
14. Montevideo Inc.
15. Renville County West Inc.
16. St. John's Prep Inc.
17. Wheaton Inc.
Individual Results
3. Kacy Nehowig 16:16
4. Kaitlyn Frenchick 16:30
7. Tanis Beireis 16:40
33. Melanie Koerner 18:33
46. Sheena Hoekstra 19:32
49. Kally Felling 19:42
55. Tarin Beireis 20:09
---
Contact the author at editor@paynesvillepress.com • Return to Sports
Home | Marketplace | Community
---