Paynesville stopped New London-Spicer from passing on Friday night but could not stop their running game, as the Wildcats ran for 382 yards and beat the Bulldogs 28-21.

As in their season opener, a slow start and turnovers cost the Dogs, now 0-2 for the season.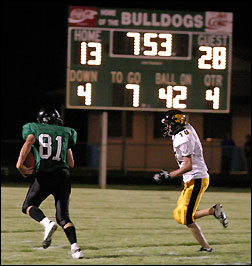 NL-S jumped to a 14-0 lead. The Cats scored on their opening possession, driving 54 yards on seven plays for their first score. Then they recovered a fumble on the ensuing kickoff and scored again, going 41 yards in four plays.
Junior Aaron Braun (81) scored on thie 58-yard pass play in the fourth quarter, using a strong stiff arm to elude the NL-S defender.
Paynesville answered on their next possession, driving 62 yards in nine plays and scoring on senior Mike Mueller's 25-yard run.
Trailing 14-7, the Bulldogs forced NL-S to punt and drove into Wildcats' territory again, looking for a tying touchdown, but a sack on fourth down ended that drive.
The Cats scored on their next play, with senior running back Brent Nelson breaking loose and scoring on a 65-yard run. Nelson rushed for 244 yards and three touchdowns for NL-S.
Just before halftime, the Dogs got the ball back and drove into NL-S territory again, but two passes into the end zone fell incomplete just before halftime.
The Cats fumbled on their opening drive of the second half, after driving into Paynesville territory, and the Bulldogs responded by pounding the ball on the ground, going 86 yards in eight plays and scoring on a eight-yard run by sophomore Matt Hansen. A missed PAT made the score 21-13.
Nelson, however, scored his third touchdown early in the fourth quarter to give NL-S a two-touchdown lead again.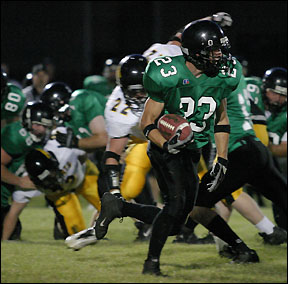 Paynesville scored their final points on a 58-yard pass from sophomore quarterback Jamie Paul to junior tight end Aaron Braun. Braun stiff-armed a NL-S defender and rambled to paydirt. Hansen converted the two-point conversion to bring Paynesville within seven points at 28-21.
Sophomore Matt Hansen (23) ran for 78 yards on Friday night, including an eight-yard touchdown run.
The Bulldogs had one final possession in the fourth quarter. They converted on fourth and five with a juggling catch by Mueller, bringing the ball into NL-S territory. But a fumble on the very next play gave the ball back to NL-S, who drove inside the Dogs' five-yard line before time ran out.
The Bulldogs (0-2) rushed for 196 yards and threw for 113 yards. They held NL-S (1-1) to 31 yards passing but allowed 382 yards on the ground.
This week, the Dogs will play at Albany on Friday night starting at 7:30 p.m.
| | | | | | |
| --- | --- | --- | --- | --- | --- |
| NL-S-- | 14 | 7 | 0 | 7 | -- 28 |
| Paynesville-- | 7 | 0 | 6 | 8 | -- 21 |
Scoring Summary
First Quarter
NL-S-Brent Nelson 24 run (Blake Williamson kick);
NL-S-Ben Slette 5 run (Williamson kick);
Pay-Mike Mueller 25 run (Justin Butkofski kick);
Second Quarter
NL-S-Nelson 65 run (Williamson kick);
Third Quarter
Pay-Matt Hansen 8 run (kick failed);
NL-S-Nelson 8 run (Williamson kick);
Fourth Quarter
Pay-Aaron Braun 58 pass from Jamie Paul (Hansen run).
Individual Statistics
Rushing (attempts-yards-TDs): Mike Mueller 13-91-1; Matt Hansen 12-78-1; Keith Klein 7-25; Randy Leyendecker 2-6; Jamie Paul 3-3; Sean Glenz 2-(-1);
Passing (completions-attempts-yards-TDs): Paul 6-10-113-1; Glenz 0-3-0;
Receiving (receptions-yards-TDs): Aaron Braun 1-58-1; Hansen 1-20; Glenz 1-19; Isaac Jones 1-12; Mueller 1-11; Klein 1-(-7);
---
Contact the author at editor@paynesvillepress.com • Return to Sports
Home | Marketplace | Community
---