The Bulldogs girls' cross country team had their best finish of the year so far on Thursday, Sept. 8, placing second at the BBE Invite.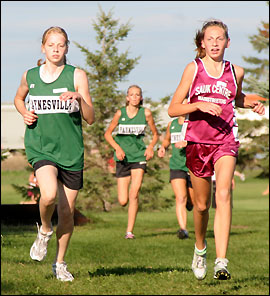 Running on the flat course on the golf course in Brooten, the Dogs beat 18 teams, losing only to the champions from Sauk Centre. Paynesville scored 138, just edging Montevideo (140) for second.
Sauk Centre, with four runners in the top six, easily won the meet with 37 points.
Ninth grader Linda Keller runs with Brianna Meyer of Sauk Centre at the front of the pack during the race at BBE last week. Trailing them are sophomore Kaitlyn Frenchick and Junior Kacy Nehowig (hidden).
The Dogs placed three runners in the top seven. Ninth grader Linda Keller recorded her best finish of the year so far, finishing second to Brianna Meyer, a sophomore from Sauk Centre who was 18th last year in the Class A state meet. Keller trailed Meyer by 16 seconds at BBE.
Junior Kacy Nehowig was fifth in 16:32, and sophomore Kaitlyn Frenchick was seventh in 16:38 for the Bulldogs.
Ninth grader Kally Felling (58th) and senior Sheena Hoekstra (60th) completed the Dogs' team score.
This week, the Dogs will run in a meet at Little Crow Golf Club, between New London and Spicer, on Thursday. Next week, they will run at Pierz on Monday, Sept. 19.
Team Scores
1. Sauk Centre 37
2. Paynesville 138
3. Montevideo 140
4. New London-Spicer 152
5. Litchfield 163
6. Redwood Valley 181
7. Eden Valley-Watkins/Kimball 214
8. Pierz 225
9. Maple Lakze 237
10. Albany 267
11. ACGC 290
12. Morris 305
13. BOLD-BLH 358
BBE Inc.
Minnewaska Inc.
Montevideo Inc.
Renville County West Inc.
Royalton Inc.
St. John's Prep Inc.
Wheaton Inc.
Individual Results
2. Linda Keller 15:54
5. Kacy Nehowig 16:32
7. Kaitlyn Frenchick 16:38
58. Kally Felling 19:05
66. Sheena Hoekstra 19:26
73. Melanie Koerner 19:57
78. Kirsten Miller 20:34
Rockford Meet
Ninth grader Linda Keller finished third, as the Dogs placed fourth out of 15 teams at a meet at Rockford on Tuesday, Sept. 6.
It was Keller's first top-five finish in cross country. The first-year runner has placed in the top ten in all three meets so far this year.
Sophomore Kaitlyn Frenchick was next for the Dogs, finishing seventh overall. She has two top-ten finishes this fall so far.
Junior Kacy Nehowig was 16th, sophomore Melanie Koerner was 54th, and ninth grader Kally Felling was 60th to complete the Dogs' team score.
Team Scores
1. Annandale 82
2. Watertown-Mayer 112
3. Belle Plaine 122
4. Paynesville 124
5. Pierz 149
6. Delano 150
7. Rockford 153
8. Eden Valley-Watkins/Kimball 158
9. Howard Lake-Waverly-Winsted 181
10. Maple Lake 200
11. Dassel-Cokato 232
12. Mayer Lutheran 259
Holy Trinity/Lester Prairie Inc.
Jordan Inc.
Montgomery-Lonsdale Inc.
Individual Results
3. Linda Keller 16:18
7. Kaitlyn Frenchick 16:46
16. Kacy Nehowig 17:27
54. Melanie Koerner 19:50
60. Kally Felling 20:06
61. Sheena Hoekstra 20:10
65. Kirsten Miller 20:33
---
Contact the author at editor@paynesvillepress.com • Return to Sports
Home | Marketplace | Community
---