The Bulldogs volleyball team lost their second match of the season last week, dropping their home opener to Melrose in four sets on Tuesday, Sept. 5.

"The team played a much more consistent match than we played against Cathedral," said coach Dawn Knoll. "Our passing was very much improved and that allowed us to set up our offense. Our defense covered the floor well and kept many balls alive that would have resulted in points for Melrose."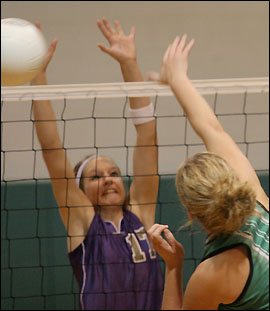 After Melrose won the first two games, the Dogs rallied by winning the third game 25-13. The Dogs led the Dutchmen 13-9 in the game before outscoring them 12-3 to end the game. Kalkbrenner had four kills (including three on free balls) during this run.
Melrose won a close fourth game 25-21. The Dogs tied the Dutchmen 17-17 on Lang's service ace and took a brief 18-17 lead. But Melrose answered with three straight points to take a 20-18 lead. The Dogs got within one point at 20-19, 21-20, and 22-21 before Melrose scored three straight points to win the game and the match.
Senior Chelsey Kalkbrenner - playing a new position, middle hitter - led the Dogs with ten kills and seven blocks against Melrose last week.
The Dogs jumped to a 12-4 lead in the first game, but Melrose scored eight straight points to tie the game 12-12 and then outscored the Dogs 13-6 to win the first game 25-18.
The Dogs trailed by a couple points throughout the second game but rallied to tie Melrose at 22-22 with junior Laura Schaefer getting a kill and senior Amanda Lieser serving an ace. But Melrose scored a sideout and two points to win the game 25-22.
"Even though we lost the match, there were a lot of things that we can build on as the season progresses," said Knoll
Some highlights for the night for the Bulldogs, according to Knoll, were: senior Chelsey Kalkbrenner stepping up at middle hitter, a new position for her, and playing well both offensively and defensively, leading the team with 10 kills and seven blocks; senior Kristin Lang's serving (26/27); sophomore Kayla Lieser playing the libero spot with confidence and digging the ball well all night (leading the team with 33 digs); and the entire team passing and working together on the floor.
This week, the Dogs (0-2) hosted Sauk Centre on Monday. They will also host New London-Spicer on Thursday night. On Saturday, the varsity will travel to Montevideo for a tournament.
Next week, the Dogs will travel to Long Prairie to play LPGE on Tuesday, Sept. 19.
| | | | | | |
| --- | --- | --- | --- | --- | --- |
| Melrose-- | 25 | 25 | 13 | 25 | |
| Paynesville-- | 18 | 22 | 25 | 21 | |
Individual Statistics
Hitting: Kristin Lang 34/37 - 8A; Laura Schaefer 21/29 - 4A; Chelsey Kalk-brenner 18/23 - 10A; Amanda Lieser 14/16 - 2A; Kate Olson 11/12 - 2A; Team 98/117 - 26A;
Serving: Lang 26/27 - 6A; Amanda Lieser 13/15 - 2A; Randi Schaefer 12/13 - 2A; Kayla Lieser 10/10; Laura Schaefer 9/13 - 4A; Chelsey Hansen 8/9; Team 82/93 - 14A;
Blocks: Kalkbrenner 7; Lang 5; Laura Schaefer 3; Amanda Lieser 2; Hansen 1; Olson 1; Team 19;
Assists: Hansen 110/118 - 18A; Team 117/125 - 18A;
Digs: Kayla Lieser 33; Laura Schaefer 20; Amanda Lieser 15; Hansen 12; Kalkbrenner 11; Team 106.
---
Contact the author at editor@paynesvillepress.com • Return to Sports
Home | Marketplace | Community
---