A beautiful day for golf turned even more memorable for Greg Curtis of Sleepy Eye, Minn., when he aced the par-3, 203-yard #7 at Koronis Hills Golf Club on Sunday, Aug. 27.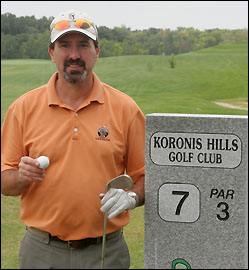 Curtis - who has owned a cabin on Lake Koronis for the past year - was playing a mid-morning round with his children: Emily, 11, and Michael, 7. "It was a beautiful, calm day," said Curtis. "One of the nicest days to play golf ever."
He hit a high three iron right at the flag on #7, and the ball just disappeared. Not seeing the ball roll or bounce at all, he thought the shot might have been short.
Greg Curtis of Sleepy Eye, a summer resident on Lake Koronis, recorded his third hole in one - and his first at Koronis Hills Golf Club - on Sunday, Aug. 27, holing his 203-yard tee shot on #7 with a three iron.
Though he hoped it might be right, he was still looking for his ball off the green when his daughter found it in the cup.
"The only thing I can think of is it went right in the jar," he said.
He was glad his children got a chance to witness his shot and was really excited himself, he said.
Curtis is a dentist in Sleepy Eye, where he has practiced for the past 14 years. He and his wife purchased a cabin on Lake Koronis last year, and this is his first year of membership at Koronis Hills.
Every weekend at the lake, he said, is like a vacation, enjoying fishing and other lake activites, golfing, and the area in general.
A 10-handicapper, Curtis took up golf seriously after college and now plays about three times each week. He was hitting the ball well when he got his latest hole in one but wasn't putting well (four three-putts before the seventh hole, so he was glad he didn't have to putt after jarring his tee shot on #7).
He was mainly having fun with his kids on a beautiful day for golf, he said.
This is Curtis's third career hole in one. He had a hole in one at the nine-hole course in Sleepy Eye in 1999 and aced the other par-3 at that course in 2001.
He already is planning to get his membership at Koronis Hills again next year, he said.
This is the sixth hole in one at Koronis Hills this summer, and the second on #7. David Knopick of Mankato aced #7 during the four-person scramble earlier in August.
---
Contact the author at editor@paynesvillepress.com • Return to Sports
Home | Marketplace | Community
---