The Paynesville Bulldog dropped its conference opener -- and first home game -- to Yellow Medicine East on Friday night 28-0.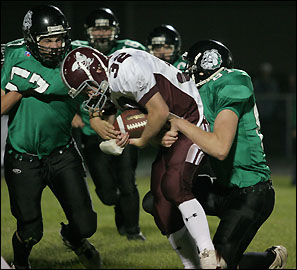 The visiting Sting, who tied for the title in the West Central Conference South last year with BOLD and ACGC, rushed for 306 yards, driving on the ground to score two first-half touchdowns.
Leading 14-0, Yellow Medicine East pinned the Dogs into their own end for much of the third quarter before finally scoring again. They intercepted a pass on the next Dogs' possession to end the scoring 28-0.
Senior Isaac Jones wrapped up a YME ballcarrier as senior Sam Bayer rushed to help during the Dogs' 28-0 loss to Yellow Medicine East on Friday night in the Bulldogs' home opener.
The Dogs, who gained 223 yards, were able to move the ball against YME but were unable to score.
They also were on the short end of field position for much of the night, starting on the opening series when a bad punt snap led to turning the ball over on downs deep in their own territory.
The Dogs forced YME to turn the ball over on downs, with senior linebacker Sam Bayer making a key tackle for a loss on third down. But the Dogs, still pinned deep in their territory, went three-and-out on their next possession (though senior receiver Alex Naujokas thought he had made a diving catch at midfield on the first play, but it was ruled an incompletion).
YME, getting the ball back near midfield, then drove 52 yards for their first touchdown.
The Dogs picked up two first downs on their next possession but were eventually forced to punt.
YME then drove 75 yards for another touchdown, though the Dogs nearly stopped the YME halfback in the backfield on third and nine before he escaped the tackle and scored from 15 yards.
The Dogs had two chances to score in the first half after falling behind 14-0. On their next possession, they drove into YME territory before facing fourth and four from the YME 27-yard line, where a dropped pass turned the ball over on downs.
YME drove into Paynesville territory again, but senior defensive lineman Isaac Jones made a come-from-behind tackle to thwart a screen pass on third down, and junior lineback Jordan Spaeth tackled a YME receiver for a short gain on fourth down.
With under two minutes to play in the half, senior halfback Matt Hansen broke a 27-yard run to bring the ball into YME territory. With time short, the Dogs completed one pass and had two fall incomplete when the half ended.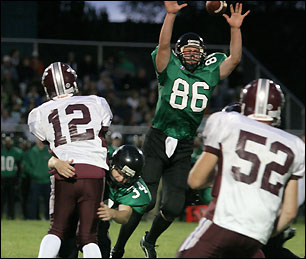 The third quarter found the Dogs trapped in their own end. They forced YME to turn the ball over on downs - as Jones made a tackle for a loss on third down - but a dropped punt led to turning the ball over to YME again deep in their territory.
Junior Brett Savelkoul, along with senior Brad Torborg, forced a fumble, recovered by Hansen, on the next YME possession to end that threat. But, after a short punt, YME scored its third touchdown.
Junior Alex Svejkovsky leapt in an attempt to bat down this YME pass as Sophomore Mike Wendlandt puts pressure on the YME quarterback.
The Dogs appeared to have stopped this drive, too, forcing a fumble on third and long, but a YME player scooped up the ball and ran for ten yards, setting up fourth and short, with the Sting converting and scoring on the next play.
In the fourth quarter, YME drove deep into Paynesville's territory before pulling their varsity starters with eight minutes to play. The Dogs' junior varsity defense forced a fumble on their second play - recovered by sophomore Jon Pflueger - to end that threat.
Coach Ted Nett said he was happy with the way the Dogs competed against YME but disappointed that a few costly plays made the difference. "I told the guys that we have to do the little things well," he said.
If the Dogs could erase a bad punt snap, a missed tackle on a touchdown run, a dropped fourth-down pass, a dropped punt, a big scramble on a fumble, and an errant pass the game could have been close entering the fourth quarter. "If we could have done the little things well," said Nett, "we could have been tied 7-7."
This week, the Dogs (1-1) will travel to Lac Qui Parle Valley High School in Madison for their second conference game on Friday night.
| | | | | | |
| --- | --- | --- | --- | --- | --- |
| YME-- | 7 | 7 | 14 | 0 | -- 28 |
| Paynesville-- | 0 | 0 | 0 | 0 | -- 0 |
Scoring Summary
First Quarter
YME-Kyle Gaffaney 5 run (Dan Johnson kick);
Second Quarter
YME-Jarett Berg 15 run (Johnson kick);
Third Quarter
YME-Gaffaney 5 run (Johnson kick);
YME-Dylan Hempel 33 interception return (Johnson kick);
Fourth Quarter
No scoring.
Individual Statistics
Rushing (attempts-yards): Aaron Burris 10-50; Shane Kampsen 6-48; Matt Hansen 6-27; Brett Savelkoul 5-15; Sam Bayer 1-5; Bill Thompson 1-4; Kody Nehowig 1-2;
Passing (completions-attempts-yards-INTs): Ted Hoffman 9-21-68-1; Burris 1-2-4; Kampsen 0-1;
Receiving (receptions-yards-TDs): Alex Naujokas 6-49; Hansen 3-19; Alex Svejkovsky 1-4;
Punts: Burris 3-92; Kampsen 1-32; Bayer 1-26;
Kickoffs: Bayer 1-40;
Kickoff Returns: Hansen 2-42; Kampsen 2-16; Mike Wendlandt 1-18;
Fumble Recoveries: Hansen; Jon Pflueger.
---
Contact the author at editor@paynesvillepress.com • Return to Sports
Home | Marketplace | Community
---