Golfer records third hole-in-one
This article submitted by Michael Jacobson on 9/13/00.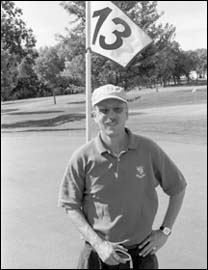 On Labor Day, Sept. 4, instead of spending the day at work, Mike Nehring (at right) spent his holiday at Koronis Hills Golf Club, where he enjoyed making his third career hole-in-one.

Nehring's latest ace came on the par 3 13th with an eight iron. He almost missed the opportunity. "I was only going to play nine, and my playing partners wanted to play 18," he said. "It's a good thing I did (play 18)."

The 13th hole was playing 138 yards, with the pin in the back left protected by the bunker. "It felt good coming off the club," Nehring said of his shot with an eight iron. "I hit it square, so it went straight. Then I got a couple lucky bounces and it went in."

"It landed on the fringe," he continued, "took a couple bounces, started to roll, and dropped in."

Nehring's witnesses were Melanie Evans, Tim Schultze, and RaNae Martinson. For Martinson, it was the second hole-in-one she has witnessed this summer at Koronis Hills. If anyone else wants to hit one, they'd better ask RaNae to play a round of golf with them, Nehring joked.

Both of his other holes-in-one were on the current 10th hole. Nehring, a Paynesville native who still resides here, hit them in 1983 and 1985, when that hole was still the 9th hole.

As for having three holes-in-one, Nehring credits plenty of time spent on the golf course and plenty of fortune. "I used to play a lot of golf. That helps," he said. "Some people golf 50 or 60 years and never get one, so it takes a lot of luck."

•Two other aces were recorded recently at Koronis Hills. On Sunday, Sept. 3, Kent Queensland of Shoreview aced the par three 4th using a nine iron. The 4th hole played at 134 yards that day.

Tom Peterka of St. Cloud had a hole-in-one on the 4th hole during the two-person scramble on Sunday. He used a nine-iron on the hole, which was playing about 140 yards.
---