The Paynesville girls' cross country team placed third out of 14 teams at the Belgrade-Brooten-Elrosa meet on Thursday.

The Bulldogs, with only five varsity runners, placed behind the defending state champions from New London-Spicer once again. The Wildcats won the meet and the Sauk Centre Mainstreeters took second.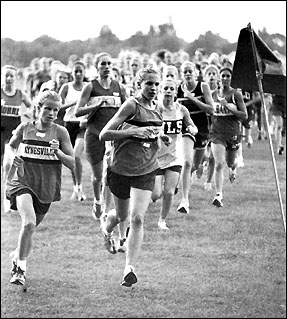 The course - at the Prairie View Golf Course in Brooten - was very flat, especially compared to the golf course at Morris, where the Dogs ran for their first meet. "The biggest hills (at Brooten) were when you run over the tee-boxes," joked eighth grader Kacy Nehowig after the meet.
The air was humid and the sun was scorching, but that didn't stop the Bulldogs. Ninth grader Brooke Schmitz and Nehowig placed in the top five to lead the Dogs.
Eighth grader Kacy Nehowig and ninth grader Brooke Schmitz led the pack into the first turn at Brooten on Thursday. Schmitz finished in second in the race, and Nehowig was third, helping the Dogs place third.
Schmitz placed second behind Albany's Rachel Stangler. Stangler placed seventh at state last year while Schmitz placed 17th. The two ran neck and neck the entire race until Stangler inched ahead of Schmitz on the final stretch.
"It was so hot, but it was flat, so it wasn't too bad," Schmitz said about her race.
Nehowig tried to keep up with Schmitz, but fell back midway through the race and placed fourth.
Seventh grader Brittni Schmitz placed 14th, improving her time by 30 seconds from her first race. She attributed her faster time to the flat course.
The fourth and fifth runners for the Bulldogs were both first-time varsity runners. Seventh graders Kaitlyn Frenchick placed 26th, and eighth grader Kristi Wendroth placed 57th, giving the Dogs a team score of 109. (Frenchick and Wendroth both ran junior varsity at Morris.)
Senior Nicole Flint was unable to run in this meet due to a shin injury. She should be back running by the next meet.
The Bulldogs have a tough week with two meets. The Bulldogs ran at LPGE on Monday, Sept. 9. The team runs again on Thursday, Sept. 12, at Little Crow Country Club between New London and Spicer, the home turf of their rival, the Wildcats of New London-Spicer.
Team Scores
1. New London-Spicer 51
2. Sauk Centre 66
3. Paynesville 109
4. Albany 117
5. BOLD 161
6. Minnewaska 168
7. Morris 172
8. Montevideo 184
9. Litchfield 236
10. BBE 260
11. ACGC Inc.
12. Holdingford Inc.
13. St. John's Prep
Inc. Individual Results
2. Brooke Schmitz 15:18
4. Kacy Nehowig 15:50
14. Brittni Schmitz 17:05
26. Kaitlyn Frenchick 17:53
63. Krista Wendroth 20:12
---
Contact the author at editor@paynesvillepress.com • Return to Sports
Home | Marketplace | Community
---