The Bulldogs defeated New London-Spicer 22-7 on Friday night to obtain their first win of the season. The Dogs scored 14 points in the first quarter and 22 points in the first half and then overcame a late rally by the Wildcats to hold on for their victory.

The Dogs played opposite of a week ago, when they lost 21-16 to Hawley in their season opener. Against Hawley, the Dogs waited until the second half to get things going on offense, but against NL-S the Dogs clicked on all cylinders right from the opening kick.

The Wildcats fumbled on their second play from scrimmage, and the Bulldogs, as good teams do, capitalized. Running behind a fired-up offensive line, senior Milan Virant scored on a four-yard touchdown run, which along with the two-point conversion put the Dogs ahead 8-0 just three minutes into the first quarter.

On the Wildcats' very next play from scrimmage, they fumbled once again, and the Bulldogs recovered in great field position again.

Two plays later, senior quarterback Chris Fuchs broke a bone in his throwing hand and had to leave the game, so senior Kevin Mehr stepped in at quarterback again. The offense didn't miss a beat as, on fourth down, Mehr found senior wideout Josh Teicher on a 13-yard touchdown pass to put the Dogs ahead 14-0.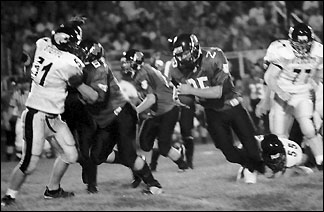 Both teams played scoreless until just seconds before intermission. Mehr hit Virant with a 24-yard strike, which brought the ball down to the Wildcats' one-yard line. With the seconds ticking away, the Dogs hurried to the line and ran a quarterback sneak, but Mehr was pushed back and failed to score.
Senior fullback Ryan Glenz ran for 65 yards on 17 carries as the Bulldogs beat New London-Spicer 22-7 on Friday night.
However, an offsides penalty against the Wildcats gave the Dogs' offense one last chance, and Virant made them pay, bulling his way in for the touchdown.
Mehr found Teicher once again in the endzone to complete the two-point conversion and put the Dogs up to stay, 22-0.
The Dogs had a six-minute drive to start the third quarter, which stalled on downs inside the Cats' 25-yard line but took half the quarter. The Wildcats and Bulldogs each had another drive in the quarter but neither scored.
With less then six minutes remaining in the fourth quarter, the Wildcats scored their first and only touchdown of the night on a 19-yard pass from quarterback Grant Elton to fullback Adam Westby.
On the ensuing kickoff, the Wildcats tried an onside kick, but senior Eric Frank recovered the kick. The Bulldogs' offense marched down the field until Virant's fumble at the Wildcats' 23-yard line gave the Cats one last chance. But the defense answered the call and stopped the Wildcats at midfield. Bulldog quarterback Kevin Mehr kneeled on the ball and time expired.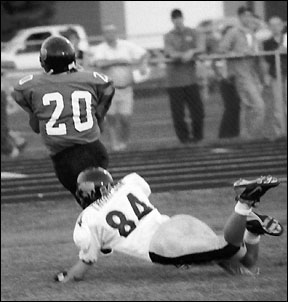 Senior defensive ends Ryan Wendlandt and Frank did an outstanding job containing the Wildcats' backfield, as highly touted running back Louie Pirrotta gained only 80 yards on the night while Virant rushed for a game-high 148 yards on 31 carries and two touchdowns for the Bulldogs.
Sophomore Brandon Berg had another great game filling in at halfback and coming up with a huge interception in the fourth quarter.
Senior Josh Teicher caught a 13-yard touchdown pass on the fourth daown for the Dogs' second score in the first quarter on Friday.
Senior fullback Ryan Glenz opened holes for Virant and Berg while rushing for 65 yards on just 17 carries himself.
Head coach Kyle Nehowig was very pleased with his team's performance, saying, "Good teams adjust when they have to. Fuchs went down early with an injury, and we didn't panic. Kevin and Brandon stepped up and did a terrific job filling in. Good teams also take advantage of mistakes made by opposing teams, and tonight we did that. Our offensive and defensive lines did a great job and have to play up to their potential every night for us to have a shot at winning."
Fuchs is out indefinitely, and, for the third week in a row, Mehr and Berg will fill in at quarterback and halfback when the Bulldogs play Friday night at Albany, who played in state again last year. Game time is 7:30 p.m.
| | | | | | |
| --- | --- | --- | --- | --- | --- |
| NL-S-- | 0 | 0 | 0 | 7 | -- 7 |
| Paynesville-- | 14 | 8 | 0 | 0 | -- 22 |
Scoring Summary
First Quarter
Pay-Milan Virant 4 run (Josh Teicher pass from Kevin Mehr);
Pay-Teicher 13 pass from Mehr (pass failed);
Second Quarter >
Pay-Virant 1 run (Teicher pass from Mehr);
Third Quarter
No scoring;
Fourth Quarter
NL-S-Adam Westby 19 pass frrom Grant Elton (Caleb Greene kick).
Individual Statistics
Rushing (attempts-yards-TDs): Milan Virant 31-148-2; Ryan Glenz 17-65; Kevin Mehr 11-28; Brandon Berg 6-18;
Passing (completions-attempts-yards-TDs): Mehr 5-7-50-1;
Receiving (receptions-yards-TDs): Teicher 4-26-1; Virant 1-24;
Interceptions: Berg.
---
Contact the author at editor@paynesvillepress.com • Return to Sports
Home | Marketplace | Community
---