Ninth grader Kacy Nehowig won her first race of the year, leading the girls' cross country team to a third-place finish last week. Ninth grader Tanis Beireis placed a career-best fourth, giving the Bulldogs two runners in the top five at the BBE meet on Thursday.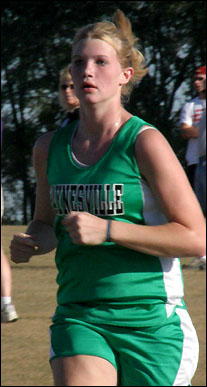 Nehowig - an all-state runner last year, taking 18th in Class A, and a team captain this year - won her second varsity cross country race. She also won the home Koronis Invitational in September 2002. She covered the race at the golf course in Brooten last week in 15:08.
Beireis - who placed in the top 15 in three of her last four meets last year (conference, subsections, and sections) - had her highest finish yet, placing in the top five for the first time in her varsity career.
Sophomore Lindsey Wyffels, at right, placed 54th in the girls race.
Eighth grader Kaitlyn Frenchick also placed in the top 20, finishing 18th overall, and eighth grader Melanie Koerner just missed the top 20, finishing 21st.
Ninth grader Krista Wendroth completed the Dogs' team score, finishing 41st. Sophomore captain Sheena Hoekstra was 52nd, and sophmore Lindsey Wyffels was 54th.
"We ran very well and attacked the course," said coach Darrel Carstens. "This was an example of where we are headed. We are very proud of all the girls."
Paynesville's junior high girls were second with ReAnne Zimmerman taking fourth overall, followed by Kelsey Miller, Tarin Beireis, Allie Wendroth, Shanna Hoekstra, and Morgan Kern.
This week, the girls ran at LPGE on Monday. They will also run at Little Crow Golf Club, in a meet hosted by New London-Spicer, on Thursday, Sept. 11, at 4:30 p.m.
Team scores
1. New London-Spicer 57
2. Sauk Centre 68
3. Paynesville 85
4. Montevideo 124
5. Morris 134
6. Litchfield 170
7. BOLD 178
8. Minnewaska 210
9. Holdingford 220
10. ACGC INC
11. Albany INC
12. BBE INC
13. Renville County West INC
14. St. John's Prep INC
Individual Results
1. Kacy Nehowig 15:08
4. Tanis Beireis 15:50
18. Kaitlyn Frenchick 16:57
21. Melanie Koerner 17:24
41. Krista Wendroth 18:28
52. Sheena Hoekstra 19:26
54. Lindsey Wyffels 20:31
---
Contact the author at editor@paynesvillepress.com • Return to News Menu
Home | Marketplace | Community
---