Matt Koehn plays soccer in Sweden with college team
This article submitted by Michael Jacobson on 9/8/99.


Matt Koehn and his teammates on the Bethel men's soccer team got an early start to their fall season this year by taking a 13-day trip to Sweden this August.

Eighteen players plus coaches and their family left on Aug. 11 and flew to Stockholm. From there, they made a loop to the west and south, going first to Goteborg, on the west coast, for three days. In Goteborg, they stayed with a host family and practiced.

Then they moved to the small town of Holsbybrunn, where they stayed at a Christian camp for three days and did some team bonding. They scrimmaged an under-18 select team while at the camp and drew 1-1.

The next day they played their first formal game against a Division 3 team. (Sweden's soccer league has 10 divisions.) Koehn and his teammates estimated the team was the equivalent of a Division 1 college team in the United States, not a Division III like Bethel. Bethel lost 8-1, and Koehn said their only goal should have been disallowed because they were offside.

They played their next game in Bie on the way to Eskilstuna and won 4-3. These opponents were Division 5 and gave the Bethel players a Swedish jersey before the game. "The atmosphere was so sweet," said Koehn. "They made us feel right at home."

In Eskilstuna, where they also stayed for three days with host families, they played a mixed team comprised of their tour guides and some of his friends. A couple of the Bethel reserves had to fill out the other team. Bethel won 5-4.

Their last game was in Viggbyholms on Aug. 22, the day before they flew back to Minnesota. Against the Division 6 team, Bethel gave up a goal in the last minute to tie 3-3.

An important part of the trip for Koehn was the missionary aspect, as he felt Sweden is a very secular country. In Goteborg, his team talked with confirmation students and a few teammates gave testimonials of their faith. After most games, they would exchange gifts with the opposing team. The Bethel players gave package that included a Swedish bible, a T-shirt, and a book about becoming a Christian. They also attended professional games and gave those players their gift package.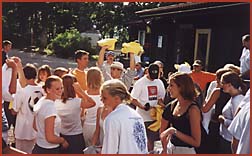 "We're just giving them an opportunity," Koehn said. Time for interacting with the opposing teams after games was limited, but he and teammates would pray that their message would get through. "You'll never know what happens, unless you see him in heaven someday," Koehn added. Some of his teammates weren't as enthusiastic about the spiritual portion of the trip, but Koehn thought you were rewarded for what you put into it.
"I thought it was a blast," Koehn said, of the trip in general. "I'd do it again."
Koehn enjoyed the mild summer weather there, and language wasn't a problem because most people spoke English. "Their landscape was unreal. It was so beautiful," he said. "It's kind of like Minnesota only with more hills."
Matt Koehn and his Bethel College teammates distributed packages of Swedish Bibles, T-shirts, and a Christian guidance book to opposing players and soccer fans.
He did miss American food during the trip, and was tired of having ham and cheese sandwiches for breakfast everyday.
Soccer-wise, the trip should kick start the fall season for Bethel. "As the trip went on," Koehn said, "we played more and more as a team."
Koehn, a senior defender, has been hindered by a injured knee. He had surgery last spring, but said aside from some stiffness, his knee felt fine.
"We're expecting big things from our team this season," Koehn said. "We expect to be one of the top teams in the conference."
Bethel opened their season with a 2-1 victory of Northwestern Bible College last week. Their nearest game to Paynesville will be at St. John's University on Oct. 12 at 4 p.m.
---