Dogs run over Lakers 33-16
This article submitted by Coach Kyle Nehowig on 9/8/99.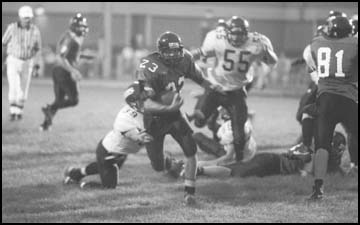 The Paynesville Bulldog football team opened up its 1999 season by beating the Howard Lake-Waverly Lakers at home 33-16. Paynesville jumped off to an early lead after the Bulldog defense stopped the Lakers and forced them to punt.

The Bulldogs' Ben Bork hooked up with T.J. Schultz on a 61-yard touchdown pass on the first play from scrimmage for Paynesville. Paynesville failed to convert on the extra point so the score stood at 6-0. The rest of the first quarter saw the Bulldogs with numerous opportunities to add to their lead as they were inside the Lakers' four-yard line three times but came away with no points.

In the second quarter, Howard Lake-Waverly scored first on a 17-yard touchdown pass and then converted the two-point conversion on another pass play. This made the score 8-6 in the Lakers' favor. This seemed to wake up the Paynesville team as they scored two consecutive touchdowns before the half.

Jeff Voss (23) breaks a tackle on his way to a rushing gain Friday night. Voss ran for 191 yards and two touchdowns.

The first was a 14-yard touchdown run by senior Jeff Voss, followed by a two-yard run by senior quarterback, Josh Roemeling. Both point-afters were no good so the score stood at 18-6 at the half in favor of the Bulldogs.

In the third quarter, the Paynesville offensive line took over and opened some huge holes for the backs to run through. The offensive line--which is made up of seniors Steve Flint, Adam miller, Josh Bork, Matt Brauchler, Eric Habben, Karl Ainsley, and Eric Hartfiel--continually pushed the Lakers' defensive linemen off the ball, allowing Jeff Voss and Ben Bork to pick up some very good yards in the third quarter. The Bulldogs scored twice on a 32-yard run by Voss and a 19-yard pass play from Roemeling to Bork. The Bulldogs picked up a two-point conversion on a pass from Logan Louis to T.J. Schultz, and also a one-point on a kick by J.T. Koehn. The score at the end of the third quarter was Paynesville 33, HL-W 8.

The fourth quarter saw the Bulldogs reserves hold the Lakers' starting offense to just eight points, which made the final score of the game Paynesville 33, HL-W 16.

Some of the defensive highlights for the Dogs were the four interceptions recorded for the night. T.J. Schultz, Joe Nosbush, Nic Glenz, and Eric Hartfiel all had interceptions in the game. The whole defense played a great game, limiting the Lakers' offense to just 230 total yards.

Up front, Steve Flint and Matt Brauchler did a great job of fighting off double teams and making their share of tackles. Joe Nosbush played an outstanding game at middle linebacker and led the Paynesville defense in tackles. Shaun Fleischhacker was also in on a lot of tackles from his outside linebacker position.

The Bulldogs are now 1-0 on the season and will play host to St. Cloud Cathedral on Friday at 7:30 p.m. Cathedral lost to Pierz in their season opener.

The players and coaches are hoping to have more fans this week's football game. The players appreciate all the fan support.
| | | | | | |
| --- | --- | --- | --- | --- | --- |
| HLW-- | 8 | 0 | 0 | 8 | -- 16 |
| Paynesville-- | 6 | 12 | 15 | 0 | -- 33 |
Scoring summary
Pay--T. J. Schultz 61-yard pass from Ben Bork (kick failed);
HLW--Derek Fogarty 17-yard pass from Andy Gagnon (Fogarty from Gagnon);
Pay--Jeff Voss 14-yard run (run failed);
Pay--Roemeling 2-yard run (run failed);
Pay--Voss 32-yard run (Schultz from Logan Louis);
Pay--Bork 19-yard pass from Roemeling (J.T. Koehn kick);
HLW--Fogarty 19-yard pass from Gagnon (Fogarty from Gagnon).
Individual statistics
Rushing (attempts-yards-TDs): Jeff Voss 21-191-2; Ben Bork 11-54; Joe Hiltner 3-6; Josh Roemeling 4-1-1;
Passing (completions-attempts-yards-TDs): Roemeling 2-5-38-1; Bork 1-1-61-1; Logan Louis 1-1-3;
Receiving (receptions-yards-TDs): T.J. Schultz 2-64-1; Bork 2-38-1;
Interceptions: Schultz, Joe Nosbush, Eric Hartfiel, and Nic Glenz;
Tackles (solo-assists): Nosbush 10-4; Steve Flint 4-5; Chris Sogge 3-6; Matt Brauchler 1-6;
Sacks: Josh Bork.
---