The Bulldogs lost their volleyball opener to Belgrade-Brooten-Elrosa in straight sets on Thursday, falling 3-0 to the Jaguars.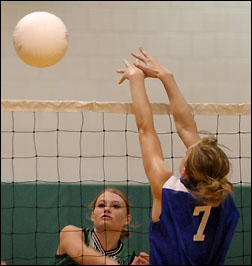 In each game, BBE had key runs that led to victory. In the first set, BBE led 13-12 before scoring five straight points and won 25-21. In the second set, the teams were tied 11-11 when BBE scored eight of the next nine points to build a 19-12 lead and win 25-18. In the third set, Paynesville rallied to get within 19-18 before hitting a spike into the net, and BBE won six of the last nine points to win the set 25-21.
Senior Rachael Wedlandt watches her spike during the Dogs' opening volleyball match against BBE last Thursday. Wendlandt led the Dogs with five kills.
"Nerves seemed to play a big part in the Bulldogs getting too many unforced errors on the court. There were spurts when the Bulldogs played up to our potential, but the mental mistakes hurt us," said coach Dawn Knoll.
"When we give up six to eight points per game in a match in which the scores were so close, it really causes us to struggle. We have the fundamentals in place and need to learn to play confidently with each other as a team," added Knoll.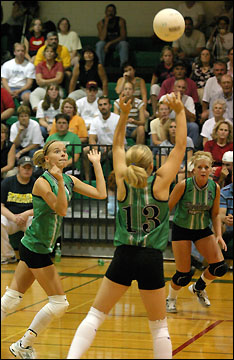 BBE has eliminated the Dogs (0-1) from the subsection playoffs the past two years.
Junior Ashley Lieser sets the ball for the Bulldogs' volleyball attack, as junior Lynn Lieser (left) and senior Val Callenius prepare to charge the net.
Senior Rachael Wendlandt led the Dogs with five kills; juniors Ashley Lieser, Lynn Lieser, and senior Brittany Lieser all were perfect in serving, with Lynn Lieser having five ace serves; and senior Kayla Mackedanz, playing libero, a defensive specialist, led the Dogs with 13 digs.
This week, the Dogs hosted LPGE on Tuesday in their first conference match. Next week, the Dogs will play at ACGC on Monday, Sept. 13.
| | | | | | |
| --- | --- | --- | --- | --- | --- |
| BBE-- | 25 | 25 | 25 | | |
| Paynesville-- | 21 | 18 | 21 | | |
Individual Statistics
Hitting: Rachael Wendlant 11/12 - 5A; Brittany Lieser 11/14 - 3A; Shonda Martinson 8/10 - 2A; Mel Mages 6/7 - 2A;
Serving: Ashley Lieser 10/10 - 2A; Lynn Lieser 9/9 - 5A; Brittany Lieser 8/8 - 1A;
Blocks: Kendra Johnson 1A; Lynn Lieser 1A; Martinson 1A; Wendlandt 1A;
Assists: Johnson 27/34 - 7A; Ashley Lieser 15/20 - 6A;
Digs: Kayla Mackedanz 13/18; Brittany Lieser 12/14.
---
Contact the author at editor@paynesvillepress.com • Return to Sports
Home | Marketplace | Community
---