Golf pro qualifies to compete in Orlando
This article submitted by Michael Jacobson on 9/06/00.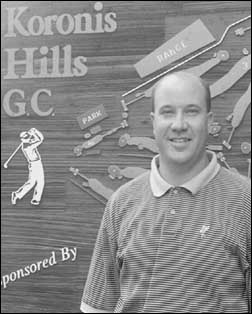 For the second time in three years, Ron Rebrovich, the golf professional at Koronis Hills Golf Course, has earned an all-expenses paid vacation with his golfing prowess.

Playing at the Oxbow Country Club, south of Fargo, N.D., on Tuesday, Aug. 29, with a team of four amateurs from Albany, Rebrovich and the team qualified for the Oldsmobile Scramble in Orlando, Fla., from Sept. 26 to Oct. 1.

The team from Albany - three men and one woman - qualified to compete in the regional tournament by winning a local qualifier. Two teams from Albany advanced to play at Oxbow, so the Albany pro asked Rebrovich to play with one of the teams.

Two years ago, Rebrovich and another team from Albany qualified to play at the Oldsmobile Scramble, which was played in Las Vegas that year.

In a field with 30 teams at Oxbow, Rebrovich's team knew it was in the hunt when it started with birdies on the first four holes. After a par, they birdied six more holes, putting them at 10 under after 11 holes. For the round, they were 14 under.

One team beat them in gross score by coming in at 15 under to advance to Orlando in the gross division. Rebrovich's fivesome - which had individual handicaps ranging from 12 to 16 - had a team handicap of four, and won the net competition with 18 under.

Rebrovich said the good start gave the team momentum and helped keep the players focused. Each team needed to use two drives from every player, and their team was able to satisfy this requirement early in the round.

All the team members made a long putt or two. Rebrovich estimated the team made one 40-foot putt for birdie, a couple 30-footers, and several 20-footers.

"I played pretty well," Rebrovich reported. "It was fun."

After they posted their score, the team did have some anxious moments watching the scoreboard as they waited for the other teams to post.

For Rebrovich, qualifying to be in the 130-team field in the net division means an all-expenses paid trip to Florida. He will have to pay to bring his wife along. The amateurs have to pay their own way.

The event will be held at Disney World. There will be 130 teams in the net division, as well as 130 teams in the gross division.

All the teams will play a round on the Celebration, Magnolia, and Palm courses at Disney World. After three rounds, the field will be cut to the top 24 teams. A chip-off will be used in the event of a tie.

Two years ago in Las Vegas, Rebro-vich's team finished one stroke off the cut after 54 holes.

Rebrovich hopes to improve on that result this time. He also hopes that the team can start strong, like they did at Oxbow, and carry their momentum through their rounds.

Off the course, Rebrovich plans to enjoy his time at the resort complex. "I'll be serious about my golf game from when I warm up until when I finish my round," he said. "Otherwise, it's going to be a vacation."

Not many people return from their vacation with a check for $30,000, which Rebrovich could do if his team wins the tournament. The amateurs will have to be satisfied with gift certificates.
---