Lakers win Little League championship
This article submitted on 9/06/00.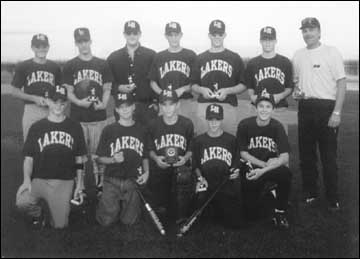 "It was a tight game to the end," said Lakers Little League coach Dennis Gruber.

Members of the Lake Henry Lakers Little League baseball team are: (front, L to R) Ross Jaeger, Steve Lenzmeier, Tony Schlangen, Cory Nietfeld, and Ryan Marthaler; (back) Kevin Gruber, Kurt Lieser, Brandon Stang, Aaron Nietfeld, Adam Kampsen, Adam Fuchs, and coach Dennis Gruber. Not pictured are Jeremy Lieser and Joey Hemmesch.

The championship of the Stearns County Little League featured a duel of two outstanding pitchers, Adam Kampsen of Lake Henry and Eathon Vogt of Elrosa. Both pitchers threw all seven innings. Kampsen had 14 strikeouts, and Vogt had 11. Only five hits were allowed for the game, three by Lake Henry and two for Elrosa.

The Lakers prevailed 1-0, as Kevin Gruber scored the winning run in the bottom of the sixth. Gruber singled, and stole second base. On the play, the throw went into center field, allowing Gruber to take third. The throw to that base went into the dugout, allowing him to score.

Highlights for the Lakers were Kampsen's pitching, catcher Tony Schlangen throwing out two runners at third, and Kevin Gruber having two hits.

Highlights for the Saints were Vogt's pitching and a great defensive play by catcher Jonathan Olmscheid, who threw out a Laker trying to score on a wild pitch.

The regular season crown was shared by Elrosa, Lake Henry, Meire Grove, and New Munich. All four teams had season records of 8-2.

The Lake Henry Little League baseball team would like to thank all the fans who came to support the Lakers and Bert Weidner for maintaining an excellent field all season.
---