Young duo wins golf tourney
This article submitted by Michael Jacobson on 9/06/00.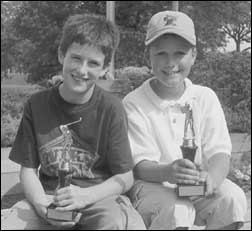 Zach Fuchs (right), 9, and Collin Spooner (left), 10, took first place in a scramble at Lynx National Golf Course in Sauk Centre.

Competing against three teams of 11-year-olds, the two young members of Koronis Hills Golf Club won the nine-hole scramble with a score of 42.

Their round featured one birdie, two pars, five bogeys, and a double bogey.

They teamed up well on an uphill, 180-yard par 3 hole. Playing into the wind, Spooner drove the green with his driver, and Fuchs sunk a 20-foot putt for birdie.

Fuchs, whose mother works at the golf course, has played more than 100 rounds of golf and more than 2,000 holes this summer. He took first in the other tournament he entered this summer.

Spooner played with Fuchs all the time last summer, but played baseball this summer, too, which cut into his golfing time. It was his first tournament of the summer.
---