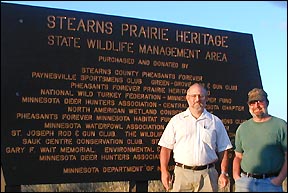 Nature enthusiasts have a new public area for walking, hunting, and trapping. The 391-acre Stearns Prairie Heritage Wildlife Management Area was dedicated on Thursday. It is located between Regal and Georgeville along Highway 55.

"This project will be here forever for the public to use and enjoy," said Brad Cobb, president of the Stearns County Pheasants Forever Chapter. According to Cobb, this is the largest prairie area set aside in the county. The new wildlife area adjoins three other habitat preserves. The four areas total 1,000 acres of public land.

Dave Ingalsbe and Leon Scanlon, officers of the Paynesville Sportsmen's Club, are in front of the sign marking the new wildlife area.

This large wintering area for deer and pheasants make it a valuable addition, said Fred Bengtson, DNR area wildlife manager in Sauk Rapids. Wildlife living in the area includes deer, ducks, pheasants, and wild turkey.

The Paynesville Sportsmen's Club purchased 40 acres of the wildlife area in memory of Michael Ogdahl, a former club member and officer. This tract, while included in the Stearns Prairie Heritage Wildlife Management Area, will be dedicated to Ogdahl separately in the future.

Dave Ingalsbe, Paynesville Sportsmen's Club president, said the wildlife habitat has everything: wooded cover, river bottom with cattails, and native prairie. The club is working with the Wild Turkey Federation to release wild turkey in the area next spring.

A dozen years ago, when the Department of Natural Resources didn't have sufficient funds for land acquisition, it started looking for donations from organizations, to purchase habitat. Sportsmen's clubs, Pheasants Forever chapters, waterfowl associations, and rod and gun clubs responded to this need.

With less and less private land available for hunters, Ingalsbe stressed the need for clubs and organizations to help purchase land.

Twenty-five wildlife management areas have been established in Stearns County. This land has been purchased only from willing sellers, said Ingalsbe.

Seventeen organizations worked together to purchase the newest property. The Paynesville Sportsmen's Club was among the donors. State matching funds were also used to help the wildlife area.

"The size of this partnership is unique," Bengtson stressed. Families and organizations that preserve land for wildlife leave a real legacy that will be enjoyed for years to come, he added.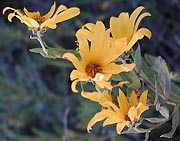 "Beautiful prairie tracts like this don't happen overnight," Cobb added.
Since January 1997, the Paynesville Sportsmen's Club has contributed about $80,000 toward the purchase of land for wildlife management areas, said Ingalsbe. Besides helping purchase land, the club has donated $10,000 to plant trees on 10-acre sites at two management areas They have also donated $10,000 for food plots in wildlife areas.
Ingalsbe said the club is in the process of obtaining 285 acres by Regal to turn into another wildlife management area.
---
Contact the author at paypress@lkdllink.net • Return to News Menu
Home | Marketplace | Community
---