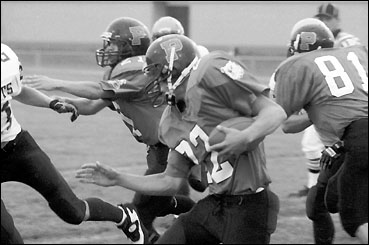 On a night when uncertainty filled the heads of the Paynesville Bulldog football players and coaches, by game's end one thing was certain: this team doesn't quit.

The Bulldogs lost their season opener at home to Hawley, a state entrant a year ago in Class AA, 21-16 on Friday night.

The Bulldogs - playing without senior quarterback Chris Fuchs and with five new starters on the offensive line - struggled on offense early in the game.

Hawley scored a touchdown midway through the first quarter and another in the second quarter to take an early 13-0 lead.

Senior halfback Milan Virant (22) looks for room to run against the Hawley defense as sophomore halfback Brandon Burg (21) and senior end Ryan Wendlandt (81) try to make room by blocking.

But the offense for the Bulldogs showed some life in the second quarter, as they answered back courtesy of senior Milan Virant's five-yard touchdown run and his run for a two-point conversion, cutting the Hawley lead to 13-8.

Virant, who needs 900 yards to break the school's career rushing record, ran for 127 yards on 27 carries on Friday night.

But an unsuccessful onside kick by the Bulldogs gave the Nuggets great field position for a final drive in the first half. Using a short field, Hawley scored on a 31-yard touchdown run and converted a two-point conversion, making the score 21-8 at the half.

The Bulldogs managed only 86 yards of total offense in the first half, while surrendering 160 yards on defense. But a good lecture by head coach Kyle Nehowig fired the young team up to come out ready to play in the second half.

Just three plays into the second half, the Dogs' defense forced a fumble and gave the offense great field position. But penalties and miscues stalled the drive, and Hawley stopped the Dogs on fourth and one inside their 20-yard line. Neither team scored in a defensive third quarter.

The Dogs, however, owned the fourth quarter, gaining 150 yards while giving up only 25. With nine minutes to go, senior fullback Ryan Glenz capped a scoring drive for the Dogsā scoring the team's second touchdown of the game. Virant again converted on the two-point conversion, making the score 21-16.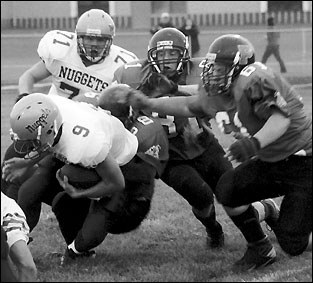 Both teams exchanged possession before the Dogs got the ball back on their own 15-yard line with just four minutes remaining.
Needing a touchdown to win, the Dogs came up with a see-saw drive that saw them gain yards and then give them up due to penalties.
Junior Derk Burris (68) wraps up Hawley quarterback Joey Grandbois for a first-quarter sack as junior Jon Scheierl (61) and senior Ryan Wendlandt (81) rush to help.
First, faced with an improbable fourth down, needing nine yards for the first down, the Dogs ran a bootleg pass and quarterback Kevin Mehr (moved behind center from his halfback position to fill in for Fuchs) was able to get the first down.
Three plays later, they ran into another dire situation, this time needing 13 yards on fourth down. Mehr hit Virant with a pass for a 15-yard gain.
Following a clipping penalty, three plays later, once again, the Dogs faced fourth and long. This time, Mehr found senior wideout Josh Tiecher for a 24-yard gain.
Two plays later, with less than a minute left in the game, the Dogs had first and ten on the Hawley 15-yard line, needing just 15 yards more to complete a winning touchdown drive. But the Dogs were penalized for a late hit, which cost them 15 yards. The drive stalled after the penalty, and Hawley intercepted a fourth-down Hail Mary pass at their three-yard line with three seconds left in the game.
After the game, assistant coach Ron Fuchs said, "Hawley is a very good team, and we proved that we can play with anybody. I was extremely impressed with the way our offense played without Chris Fuchs in there. Sophomore Brandon Burg did an outstanding job filling in for Kevin at halfback, and we can certainly build on this game."
Burg will get the start again at halfback on Friday, because Fuchs' ankle is still bothering him. Mehr will start again at quarterback.
The Bulldogs will play host to the New London-Spicer Wildcats on Friday night. Game time is 7:30 p.m.
| | | | | | |
| --- | --- | --- | --- | --- | --- |
| Hawley -- | 7 | 14 | 0 | 0 | -- 21 |
| Paynesville-- | 0 | 8 | 0 | 8 | -- 16 |
Scoring Summary
First Quarter
Hawley-Jesse Larson 40 run (Cody Baxter kick);
Second Quarter
Hawley-Joey Grandbois 9 run (kick failed);
Pay-Milan Virant 5 run (Virant run);
Hawley-Larson 31 run (Larson run);
Third Quarter
No scoring;
Fourth Quarter
Pay-Ryan Glenz 4 run (Virant run).
Individual Statistics
Rushing (attempts-yards-TDs): Milan Virant 27-127; Kevin Mehr 11-45; Brandon Burg 11-31; Ryan Glenz 6-24;
Passing (completions-attempts-yards-INTs): Mehr 4-8-40-1;
Receiving (receptions-yards-TDs): Josh Teicher 1-24; Virant 1-15; Glenz 2-1;
Tackles (solo-assists): Glenz 8-6; Teicher 3-5; Mike Mueller 1-6.
---
Contact the author at editor@paynesvillepress.com • Return to Sports
Home | Marketplace | Community
---