Football team hosts season opener Friday
This article submitted by Kyle Nehowig on 9/1/99.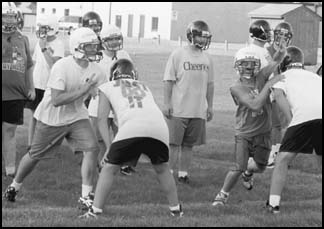 The Paynesville Area High School football team reported to practice on Aug. 16 to start the 1999 season. The Bulldogs have 69 players out in grades 9-12, which is up from 53 in 1998.

The team has nine returning starters on offense and seven returning starters on defense. The Bulldogs also have back All Conference running back Jeff Voss, who rushed for 800 yards in 1998. Also back are two All Conference Honorable Mention lineman, Steve Flint and Matt Brauchler.

With these players returning and a great bunch of senior leaders, the Bulldogs hope to get off to a fast start in 1999.

The varsity and junior varsity teams had a scrimmage at Benson on Aug. 28 against Benson, KMS, MACCRAY, and Lac Qui Parle Valley. Both teams had good moments, and some not so good moments.

The team is hoping to correct their mistakes before the season opens on Sept. 3. The Bulldogs will host Howard Lake-Waverly at 7 p.m.

The coaches this year are Kyle Nehowig, Ron Fuchs, Tim Woehler, and Jerry Hunt.

The players and coaches are hoping for a big crowd for their home opener.
---