Eight seniors lead this year's Bulldogs volleyball team, which hopes to improve on their conference play in 2004 and advance further in the section playoffs.

The Dogs - who finished 9-12 last year and ended their season in the section semifinals for the second straight year - return three varsity regulars (senior hitters Brittany Lieser and Rachael Wendlandt and senior setter Kendra Johnson) and eight players who saw varsity action in 2003. Lieser, Johnson, and Wendlandt will serve as captains this fall.

"We have an abundance of talent," said coach Dawn Knoll, who enters her second season as the varsity volleyball coach for PAHS. "If someone struggles, I've got choices about who can go in."

With rally-point scoring - with a point for every rally, whether serving or receiving, and games going to 25 points - even brief lulls can be costly. Knoll expects the depth of the team, and its array of capable hitters, to be its strength.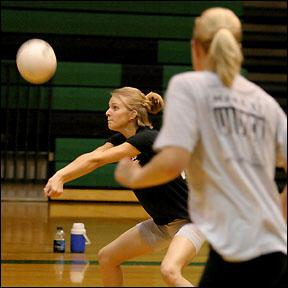 Wendlandt had 129 kills last year, and Lieser had 100 to lead the returning hitters. Senior Sam Moser (30 kills), senior Val Callenius (17 kills), and junior Lynn Lieser (12 kills in limited varsity action as a sophomore) also return to the Dogs' hitting attack.
Senior Katie Nelson receives serve during volleyball practice. Nelson is one of several PAHS players this fall who could play libero, a defensive specialist who wears a different jersey and plays in the back row.
Setting for them will be Johnson and junior Ashley Lieser. Once again, the Dogs will use a two-setter attack, using a setter in the back row and rotating a hitter into the front line.
While the Dogs' offense has looked good in preseason practices and scrimmages, Knoll is concerned about the team's consistency in receiving serve and passing to the setter. At a three-team scrimmage at Melrose a week ago, the Dogs' passing forced their setters to run quite a bit, said Knoll.
A new rule could help the Dogs' defense this fall. A year after going to rally-point scoring, high school volleyball has added the libero position. The libero, already used in collegiate and Olympic volleyball, is a defensive specialist who can only play in the back row. Wearing a contrasting jersey, the libero can neither serve, nor set, nor attack the ball above the net.
The libero can switch from game to game in the same match and should provide defensive help and provide a spot for another player to play. Teams are limited to 18 substitutions per game in volleyball, which the Dogs normally use to rotate their setters and hitters for offensive purposes. But the libero does not count as a substitution, meaning the Dogs can use her freely for defense.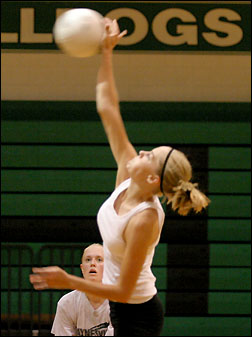 Knoll said seniors Kayla Mackedanz and Katie Nelson and junior Mel Mages have looked good as the libero in preseason practices. Senior Ashley Spanier is expected to be a utility player this fall.
The Dogs this fall will be without their top two blockers from 2003, as middle hitters Amanda Glenz and Jessie Virant graduated last spring. But Knoll expects the Dogs to fare well in blocking this fall. With Lynn Lieser and Wendlandt starting as middle hitters, Knoll wants to use her tallest player, 6' 2" junior Shanda Martinson on the outside, since most teams try to set to their outside hitters the most.
Junior Lynn Lieser hits a spike during a preseason scrimmage supported by teammate junior Shonda Martinson.
The Dogs face a tough conference schedule in 2004, with Albany and St. Cloud Cathedral having made state appearances in volleyball last year and both being rated in state in the preseason rankings this fall. All the teams in the West Central Conference North are solid again, according to Knoll, meaning the Dogs will have to play well to win. No gimmes. Last year, the Dogs were 2-8 in conference play and 7-4 in nonconference play.
But Knoll - who will be assisted by Keri Hatlevig with the junior varsity and newcomer Carrie Hemmesch with the ninth grade - thinks the Dogs have good prospects in the section, as BBE lost eight seniors. But Albany returns as the section favorite, too.
"We've got the talent that if we're playing well we'll be right in the hunt," said Knoll.
This fall, the Dogs face a similiar schedule but have added a second tourney at Sartell in October, in time to fine tune the team for the section playoffs, said Knoll. That eight-team tournament should features at least three Class AAA teams to challenge the Dogs and prepare them for a playoff run.
The Dogs open their season with home games against BBE on Thursday, Sept. 2, and against LPGE on Tuesday, Sept. 7.
---
Contact the author at editor@paynesvillepress.com • Return to Sports
Home | Marketplace | Community
---