With the largest squad in years, the Paynesville Bulldogs football team prepares for its 2004 campaign hoping that a year of growth will help garner more success this fall.

Last year, the Bulldogs struggled through a winless season, finishing 0-9. Though a number of their losses were by large margins, the Dogs did play some good football last year, losing narrowly to conference champion Benson 13-6 and having chances in the fourth quarter against New London-Spicer before losing 30-16, against LPGE before losing 40-34, and against top-seeded Holdingford in sections before losing 30-14.

The Bulldogs have 61 players in grades 9-12 out for football this fall, the largest squad in years, according to coach Kyle Nehowig. They have 41 players in grades 10-12, up from 33 players a year ago in those same grades.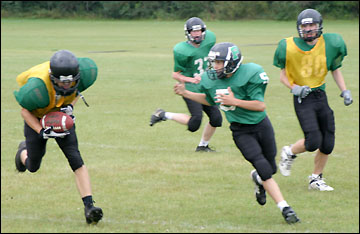 This year's team includes 10 seniors and 12 juniors. In football, numbers are crucially important to team success, said Nehowig.
Sophomore Matt Hansen makes an interception in preseason practice for the Bulldogs. Hansen is part of the starting offensive backfield that coaches expect to be a strength of the team this fall, and he should see action in the secondary. The Dogs play at Holdingford on Friday at 7 p.m.
The returning players are led by senior fullback and linebacker Mike Mueller, an All Conference performer last season.
He is part of an offensive backfield that returns intact, along with junior quarterback Jamie Paul (who completed 37 passes for 440 yards last fall), sophomore halfback Randy Leyendecker (who earned honorable mention honors from the conference last fall, leading the team with 720 rushing yards), junior halfback Aaron Bachman, and sophomore halfback Matt Hanson.
With a solid line and an experienced backfield, offensive coordinator Ron Fuchs has high expectations for the offense this fall. He expects a more balanced attack, noting that Paul threw for more yards last year than any Bulldog quarterback in years. Plus, the Dogs have a back-up quarterback - junior Sean Glenz, who will start at end - who also can throw the football.
Senior Justin Butkofski - who also earned All Conference honorable mention honors last fall - and senior Josh Binsfeld are both three-year starters who return to lead the offensive line. Senior center Cody Flanders also returns to the offensive line, with senior Josh Tebben also expected to start, and junior Mike Berry and senior Casey Kussatz battling for the last starting spot.
While the Bulldogs averaged 246 yards of offense in 2003, they yielded 416 yards per game (224 yards per game rushing and 192 yards per game passing), allowing opponents to average 38 points per game.
The Dogs have seven returning starters on defense and a new scheme to try and shut down their opponents. Defensive coordinator Ted Nett, a new teacher at PAMS, brings a 4-4 base defense, which he played at Albany High School and used at Zimmerman as a coach last year, to the Dogs. The defense fits the Dogs personnel, according to Nett, and provides greater flexibility for blitzing and coverage. Mueller, an inside linebacker, returns on defense, too, along with three other starters at linebacker - juniors Bachman, Keith Klein, and Dustin Utsch. Butkofski returns at defensive tackle, Glenz returns at end, and Hansen in the secondary.
Junior Aaron Braun and sophomore Isaac Jones are expected to see action at defensive end this year. Tebben, a top substitute on defense last year, is expected to start at defensive tackle this fall. Also expected to contribute in the secondary are senior Eric Hansen, junior Joel Kerzman, sophomore Alex Naujokas, Paul, and Leyendecker.
The Bulldogs once again will play in the West Central Conference South in football against the smaller schools in the conference. This year, Benson returns as a favorite, and Sauk Centre, with a smaller enrollment, replaces Long Prairie-Grey Eagle in the south half. The Dogs will play nonconference games against Holdingford, New London-Spicer, and Albany this fall before embarking on their conference schedule. Homecoming is Friday, Oct. 15, against Benson.
For the playoffs, the Dogs will compete in Section 5AA against ACGC, Eden Valley-Watkins, Holdingford, Howard Lake-Waverly-Winsted, Kimball, Maple Lake, and Norwood-Young America.
Their opening game is a repeat of their section playoff game last fall - at Holdingford, where they lost 30-16 in the first round in 2003. The Dogs will play at Holdingford at 7 p.m. on Friday, Sept. 3.
---
Contact the author at editor@paynesvillepress.com • Return to Sports
Home | Marketplace | Community
---