Once again in 2005, the Bulldogs will field a volleyball team filled with eight seniors, but this year's team does not have as much varsity experience as last year's 9-14 squad.

How this year's version will fare will depend largely on how well those seniors - Ashley Lieser, Lynn Lieser, Mel Mages, Shonda Martinson, Kayla Nelson, Kristin Nietfeld, Tara Schmidt, and Amanda Skalicky - fare on varsity.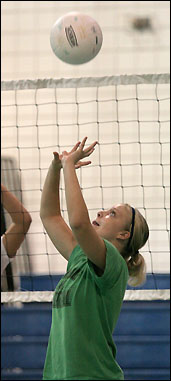 Ashley Lieser, Lynn Lieser, and Martinson saw the most playing time last year as juniors of the returning varsity players. Ashley Lieser was second on the team in assists last year (201) and third in serving (248 attempts, 28 aces); Lynn Lieser was fourth in hitting (82 kills), third in blocking (43 aces), fourth in serving (243 attempts, 27 aces), and fourth in digging (121); and Martinson was second in hitting (122 kills) and led the team with 46 ace blocks.
Senior Ashley Lieser sets a ball during a volleyball practice last week. The Dogs will host St. Cloud Cathedral in their first match on Thursday.
Lynn Lieser earned honorable mention last year in the West Central Conference North.
Juniors expected to play varsity this year are Kristin Lang, Amanda Lieser, and Chelsea Kalkbrenner. Juniors expected to split time between junior varsity and varsity this year are Kate Olson, Kayla Rohe, and Jacqui Schlangen, and sopohomores who could see varsity time this year are Kayla Lieser and Laura Schaefer, according to coach Dawn Knoll.
A team strength, for a change, said Knoll, should be height, since Martinson and Lang both stand over 6' and Lynn Lieser has good leaping ability at the net. For the season opener, against Cathedral on Thursday, Sept. 1, Knoll plans to use Lang and Lieser as middle hitters and Martinson on the outside.
Knoll expects to start the season using a 5-1 alignment with Ashley Lieser as the sole setter. Knoll would like to use a 6-2 attack, with two setters, if another setter develops quickly.
The varsity team has already scrimmaged twice: at ACGC on Friday, Aug. 19, and at Melrose on Thursday, Aug. 25. At ACGC, Knoll said she was pleased with the team's serving and blocking, but its passing needs work.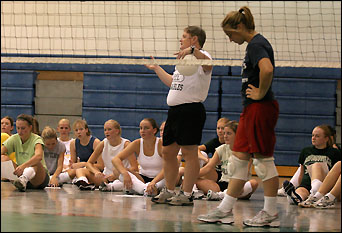 If offense in volleyball consists of serving, setting, and hitting and defense consists of blocking and digging, then passing - directing digs to the setter in the center of the court - are the key transition from defense to offense. Without good passing, the rhythm and flow of the attack will suffer. "If we can't pass the ball, we can't get to the hit," explained Knoll.
Coach Dawn Knoll instructs the volleyball players as senior Mel Mages (right) listens and waits to start the drill.
The team's goals are to play well and to get one game further in subsections (to the semifinals, having lost to Albany in the subsection quarterfinals in 2004), said Knoll. "We have the potential," she said, "if we play well."
For the first time in three years, there are no significant rule changes for volleyball in 2005. (The libero, a back-row defensive specialist, was added in 2004, and rally-point scoring was adopted in 2003.)
The competition for libero is wide open, said Knoll. Skalicky has been the team's best defensive player in preseason drills, she said, but she also is likely to play as an outside hitter with Mages, Martinson, Amanda Lieser, and Kalkbrenner.
What's new for the Bulldogs volleyball team in 2005 is the conference schedule. With the addition of New London-Spicer and Minnewaska to the conference slate - both schools moved to the north division in 2005 - conference schedules for volleyball increased from 10 to 14 games. Since volleyball only plays 16 dates, they only have two open dates, both tournaments, at Montevideo on Saturday, Sept. 17, and at Sartell on Thursday, Oct. 20. The Dogs lost four nonconference matches - ACGC, BBE, EV-W, and Kimball - from 2004 due to their increased conference slate in 2005.
One thing nice about the new schedule, said Knoll, is that they play regularly on Tuesdays and Thursdays. This will be nice for consistency, said Knoll, since they will not have games on back-to-back nights and will always have a practice the night before a game.
Albany, Cathedral, and Melrose are the conference favorites, according to Knoll, while NL-S, now coached by the ex-Cathedral head coach, is very talented, too. (The Dogs upset NL-S in five games in subsections in 2003 and swept the Cats in three games in 2002.)
The addition of Minnewaska and NL-S should just make the WCC North tougher in volleyball. In conference, there are no "breathers," said Knoll, citing state appearances by Albany and Cathedral in 2003 and the overall depth of the teams.
Last year, the Dogs were 3-7 in the WCC North and 6-7 in nonconference games, including their subsection loss to Albany.
"Our conference play is going to make us better," said Knoll.
Albany, BBE, and NL-S should be favorites in subsections, said Knoll.
Overall, 36 players are out for volleyball this fall in grades 9-12. Assisting Knoll again this fall are B-squad coach Keri Hatlevig and C-squad coach Carrie Hemmesch.
2005 Schedule
Monday, Aug. 15 - Practice Begins - 8 a.m.
Thursday, Sept. 1 - St. Cloud Cathedral - 6 p.m.
Tuesday, Sept. 6 - at Melrose - 6 p.m.
Thursday, Sept. 8 - Albany - 6 p.m.
Tuesday, Sept. 13 - at Sauk Centre - 6 p.m.
Thursday, Sept. 15 - at New London-Spicer - 6 p.m.
Saturday, Sept. 17 - Tourney at Montevideo* - 9 a.m.
Tuesday, Sept. 20 - LPGE - 6 p.m.
Thursday, Sept. 22 - at Minnewaska - 6 p.m.
Tuesday, Sept. 27 - at St. Cloud Cathedral - 6 p.m.
Thursday, Sept. 29 - Melrose - 6 p.m.
Tuesday, Oct. 4 - at Albany - 6 p.m.
Thursday, Oct. 6 - Sauk Centre - 6 p.m.
Tuesday, Oct. 11 - New London-Spicer - 6 p.m.
Thursday, Oct. 13 - at LPGE - 6 p.m.
Tuesday, Oct. 18 - Minnewaska - 6 p.m.
Thursday, Oct. 20 - Tourney at Sartell* - 9 a.m.
Oct. 27, Oct. 28, Nov. 1, & Nov. 3 - Subsections at TBA* - 7 p.m.
Saturday, Nov. 5 - Sections at Melrose* - 7 p.m.
(JV and ninth grade matches start at the given times, with the varsity starting about 90 minutes later.) *Varsity only.
---
Contact the author at editor@paynesvillepress.com • Return to Sports
Home | Marketplace | Community
---