New this fall, the Chain of Lakes Soccer Club is providing students from Eden Valley-Watkins, Paynesville, and Rocori with an opportunity to play soccer.

So far, 22 boys and girls have participated in soccer practice, which began on Monday, Aug. 15.

Morning practices were held for two weeks before school started. Now that school is starting, that practice schedule will change.

The boys' team is coached by Ric Koehn of Paynesville, a former girls' basketball coach for PAHS; and the girls' team is coached by Sue Knutson, a counselor at EV-W High School. Knutson - who played soccer at Osseo High School and for the Brooklyn Park Kickers, a traveling team - has coached youth soccer through Community Education in New London-Spicer and works with Koehn's daughter, Beth Voss, who has coached youth soccer with Koehn in Paynesville through Community Education.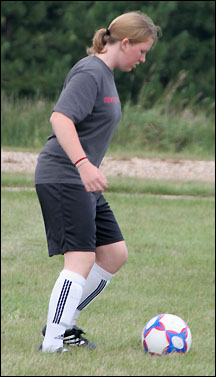 "We had more and more kids interested, so we decided to give it a try," said Knutson.
A couple years ago, they tried to form a club team in Paynesville, said Koehn, and had lots of interest in the spring but not enough players in the fall. This time, they have taken a joint approach with other towns to increase their numbers.
Ninth grader Brianna Fischbach prepares to pass the soccer ball during a practice drill last week.
So far, they have ten boys and 12 girls on the team. There is great interest, according to Koehn, and more players come all the time.
As club teams, not associated with the Minnesota State High School League, they will play junior varsity and ninth grade teams from other schools. "Most of them are looking for teams to play for their JV and for their ninth grade," said Koehn.
As a club team, they should have less pressure, the coaches hope, and will be able to attract kids to give the sport a try. Some of the players have extensive experience, while others are new to the sport. "We range from never having touched a ball, except in P.E. class, to playing on traveling teams," said Knutson.
The boys' team played their first game at St. Cloud Tech against the Tigers' JV on Monday, Aug. 29. Their next game is Monday, Sept. 12, at Sartell.
The girls' team's first game is scheduled for Thursday, Sept. 8, at St. Cloud Tech. Although the schedule for the club teams is not finalized, both should play a half dozen games this fall.
They plan to play home games either at Eden Valley Elementary School, where they practice, or at the community park in Richmond. They are still working on getting regulation goals.
Another concern is field size. A football field is long enough (120 yards long with the end zones), but only 50 yards wide, when a soccer field should be 70 or 80 yards wide, said Koehn, who played soccer at Hamline University "back in the dark ages" when the sport was just sanctioned at the school and the team wore volleyball uniforms. Then Koehn's kids played soccer in Rochester and on traveling teams after moving to Paynesville.
A majority of players are from Paynesville and Cold Spring, according to the coaches.
Girls players include the following from Paynesville: sophomore Natasha Fangmeier, sophomore Leah Felling, ninth grader Brianna Fischbach, ninth grader Jenna Kincade, sophomore Mel Koerner, and sophomore Holly Latchum, who lives in Paynesville but attends EV-W High School.
Boys players include the following from Paynesville: sophomore Travis Erickson, junior Ryan Orbeck, seventh grader Luke Puppe, senior Roger Schaumann, ninth grader Joe Schaumann, and senior Joe Sheridan.
"Finally," said mother Debra Kincade, whose three daughters played soccer in Arizona before moving to Paynesville. Ninth grader Jenna is playing soccer this fall, and sophomore Kailey hopes to recover from a knee injury by the end of September and play, too.
In Arizona, said Debra, soccer is more popular than football, so her daughters were surprised they couldn't play soccer when they moved to Paynesville last year. "They were disappointed when we signed up for school last year because they played soccer and swimming and Paynesville doesn't have either," she said.
Koehn said they have modest goals for their first season, such as scoring their first goal. The real goal is to get the soccer teams off the ground. "If we can get through the season, have fun, play some games, then it'll be a success," he said.
After the season, said Koehn, they will have to decide whether or not to pursue becoming a varsity team - in which case they would need to raise funds in order to approach the school districts as a no-cost addition. This would be similar to the arrangement with hockey, which is run by the hockey associations and became a varsity sport, known as the River Lakes Stars, at no cost to the school districts involved.
They also will need to continue to run youth programs to get kids interested in soccer, added Knutson.
The coaches welcome anyone interested to join the club teams still this year. The registration - $75 - includes t-shirt and socks, with the rest going to pay team expenses. Anyone still interested in joining the teams should call Beth Voss at 320-243-4608.
---
Contact the author at editor@paynesvillepress.com • Return to Sports
Home | Marketplace | Community
---